Construction workers are used to facing many issues in regards to their clothes, especially their work pants. These are some of them:
Uncomfortable materials that don't feel good at the touch
Expensive work pants that don't last as half as they should last
Work pants that don't fit well
Lack of pockets and other convenient features that make the life of construction workers easier
For these, and many other reasons, I took the time to research and test various work pants with the hopes of arriving at a list of the best work pants for construction workers.
The Best Work Pants for Construction Workers
This is the list of the 5 best work pants for construction workers I arrived at after much testing:
1) Carhartt Men's Double Front Duck Utility Work Dungaree Pants
"I love wasting 15 minutes a day looking in my toolbox for the tools I need!". That's something you won't ever hear coming from a construction worker.
This is why, during the testing period, I liked how well this pair of Carhartt pants made use of their reinforced back and utility pockets. This extra space made it really easy to carry my tools around and avoid having to stop, walk over to the toolbox and search for the tool I needed.
Additionally, having a loop that helps in carrying a hammer around is another convenient feature of this work pant as it prevents them from losing time by tearing through the toolbox to find it.
Construction workers need clothes ergonomically designed to make our lives easier, which is why I like it when brands add features such as knee inserts to their work pants.
This will prevent you from wasting money on a replacement pair of work pants because they got ripped in the knee area.
Picture it: you just bought a new pair of work pants that seem great, and when it's time to put them on you realize…you can't make them fit over your work boots. That's a bad scenario to deal with, which is why these pants have big leg openings that will pretty much fit over any work boot.
Do you like having to replace your work pants more often than you should? Yeah… me neither, which is why I always look for durable work pants.
That's how I came to love these Carhartt work pants as they were made from a pure ring-spun cotton duck material. This type of cotton is more woven than other fabrics like regular cotton or khaki which allows them to easily adapt to the legs, something that's necessary for construction workers.
Just like with knees, the front part of your legs (your quads, if we get more specific) takes more impact and, without double front pants, it will often wear down and break quickly. This is why they added features such as their double fronts to these work pants.
In terms of comfort, these Carhartt work pants have a comfortable loose fit which in combination with its comfortable thigh design, makes the pants comfortable and flexible enough to wear around the construction site without restricting movement.

Pros
12-ounce heavyweight 100 percent ring-spun cotton duck.
Reinforced paneling at knees.
Double front with cleanout.
Heavy-hauling reinforced back pockets.
Left Hammer loop.
Side utility pockets and Heavy-hauling reinforced back pockets with logo tag.
Openings that accommodate knee pads.
Multiple tool and utility pockets for convenience.
19-inch leg openings fit over work boots.
2) 5.11 Men's Tactical 74273 TacLite Pro Pant
Not having the tools you need at the right time is the worst.
That's one thing I didn't have to go through with these 5.11 tactical work pants as they came with two cargo pant pockets which make searching things really convenient.
Since each pocket was sized differently I could fit both big and small tools in them, which saved me lots of time.
Additionally, these tactical pants came with a rear strap and rear web strap which were extremely useful. If the pockets were already filled up or if I needed to carry around a bigger tool, it could be placed on the straps easily.
Clip loops were another really interesting feature. This attribute meant that my equipment could be fixed to that loop and be carried around without issues. Just like with pockets, these straps and loops made the pants more versatile letting me carry as much equipment as I could.
Having to waste your money on pants that aren't gonna last you half of what you'd hope they would last is SO ANNOYING!
I'm pretty sure that with these 5.11 tactical pants that won't happen as they have triple-stitch reinforcement which makes them perfect for the demanding use a construction worker is used to put their work pants under.
Secondly, they have YKK zippers that are substantially more durable than regular zippers, they don't break as often which prevents you from getting annoyed if the goddam thing breaks when putting your work pants on in the morning!
I always rip apart my pants in the same parts… ALWAYS!! If it isn't the crotch, it's the knee, and if it's not the knee, it's some weird part that I can't understand how it got ripped. It's infuriating.
This is why I liked the extensive bar tacking that came in these 5.11 tactical pants. It's placed on major stress points of the pants, such as the knees, ensuring they won't rip that easily.
Pros
Exceptionally durable with triple-stitch reinforcement
Extensive bar tacking at major seams and stress points.
Two cargo pockets + magazine/cell phone pocket.
Signature rear strap and slash pocket design.
Rear web strap.
YKK zippers.
Clip loop.
3) Dickies Men's Original 874 Work Pant
These Dickies pants come with distinctive
tunnel belt loops
that allowed the pants to fit me nicely to the shape of my legs, which is a common problem for construction workers.
Do you like wasting a quarter of your day looking for tools that should be available to you instantly? Yeah… me neither, which is why I loved the rear and back welt pockets these pants came with.
I mean, they gave me enough space to conveniently store tools which meant that I wouldn't have to keep running up and down the construction site all day to get different tools.
They came reinforced too which is always a nice addition for a pair of pants that's constantly subjected to harsh usage.
Also, the snap closure ensured that all my tools were stored and secured well, removing the fear of damaging them.
If you hate every time your fly gets jammed then you're gonna love these Dickies pants as they come with a zip fly with hook and tab closure which saves time and frustration. In fact, the zipper comes with a ratcheting feature that ensures there's no stress when it comes to putting the zipper in a locked position since it won't break but rather it will ratchet down.
Things got easy for meat the construction site thanks to these Dickies work pants as they came with materials that allowed stains to be washed off quickly while still retaining the shape and color of the pants. In fact, its fabric was chemically treated to resist wrinkles and hold up its shape no matter what kind of use I'd give them.
Moreover, these Dickies work pants came with an expandable waistband that adapted comfortably to my waist. The "expandable" part allowed them to spread out a few "extra inches" when I most needed it. And the best part is that no one noticed it! This is particularly ideal for people who are in-between waist sizes as it gives an excellent fit that is not too tight or too loose.

Pros
Wide waistband with tunnel loops.
Distinctive tunnel belt loops and welt back pockets.
Rear button-through welt pockets.
Zip fly with hook-and-tab closure.
Easy care stain release.
Stain- and wrinkle-resistant technology.
Hook and Eye Closure.
4) Carhartt Men's Cotton Ripstop Relaxed Fit Work Pant
I liked how these Carhartt pants came with a
Cordura-lined ledge and back pockets
, in which I could easily store my tools which let me move freely around the construction site.
Additionally, they came with two beautiful, large cargo pockets with flaps and snap closures. This feature lets me store my tools at arm's length [quite literally], allowing me to reach for them easily.
In case you despise wasting money on work clothes that don't last, then you'll be interested to know that these Carhartt work pants came with a powerful Ripstop fabric. This material keeps the pants from ripping apart which is something that happens a lot to construction workers.
As if that wasn't enough, the engineers at Carhartt added more durable features such as the Double-Front construction. This attribute would save any worker loads of cash since they don't have to waste money in repairing or replacing their work pants.
Getting these Carhartt work pants might be a great idea if you're looking for comfortable features such as their relaxed type of fit. This feature managed to let the work pants sit comfortably around my waist without inducing me pain, which is much to say if you've been around the block with other work pants…
Another feature I fell in love with is their relaxed seat and thighs feature which made me feel as if I was wearing sweatpants to work!
Pros
Relaxed seat and thigh.
Relaxed Fit for Comfort.
Comfortable gusseted crotch.
Cordura-lined front ledge and back pockets.
Two large cargo pockets with flaps and snap closures
Powerful Ripstop Fabric Resists Tears.
Double-Front Construction.
5) Dickies Men's Loose-Fit Cargo Work Pant
Isn't wasting time looking for a tool one of the most irritating for a construction worker?
That's why I loved how the guys at Dickies added convenient features to these pants, such as their side-seam and welted back pockets which were convenient for two reasons:
First, they were great for storing and keeping my tools safe
Secondly, they were easy to access, making my tools easily available for those times I needed them the most
Another handy feature was the cargo pockets. These compartments have space enough to store bigger tools essential for construction workers, like hammers and so on.
During my years as a construction worker, I've had a lot of days with my zipper digging into my skin. While this isn't an unbearable pain to deal with, after a few hours, it becomes really uncomfortable.
With the button closure though, not only is that problem eliminated, but the pants seem to fit better.
Buying a second pair of work pants two months after having spent 50 to 80 bucks on a first one, is really frustrating. Fortunately, these Dickies work pants were made with sturdy materials designed to survive through any kind of demanding use.
The last thing a construction worker wants is tight pants that cut their blood flow on their knees. It's so uncomfortable! In that sense, these work pants have room in both seat and thigh areas which makes wearing the pants really comfortable.

Pros
A relaxed flat-front pant featuring side-seam pockets.
Welted back pockets.
Pleated cargo pockets provide ample room for on-the-go storage.
Zip fly with button closure.
Has a loose fit that's roomy through the seat and thigh.
Has slightly wider leg openings.
Casual waistband & flat-front styling.
Crafted from our 100% cotton twill fabric.
My Verdict: The Best Work Pants for Construction Workers Are…
Carhartt Double Front Duck Utility Work Dungaree Pants
Would you like to know why I chose these Carhartt work pants as the best work pants for construction workers? Well, it was mainly because of how durable and tough they were during my time with them, but if you'd like to understand my decision you'd have to read its full review by clicking the button down below!
Quick Comparison Table
| Name | Convenience | Durability | Comfort |
| --- | --- | --- | --- |
| Carhartt Men's Double Front Duck Utility Work Dungaree Pants | 4.9 | 5 | 4.8 |
| 5.11 Men's Tactical 74273 TacLite Pro Pant | 5 | 4.8 | 4.9 |
| Dickies Men's Original 874 Work Pant | 4.8 | 4.9 | 4.8 |
| Carhartt Men's Cotton Ripstop Relaxed Fit Work Pant | 5 | 4.9 | 4.8 |
| Dickies Men's Loose-Fit Cargo Work Pant | 4.9 | 5 | 4.9 |
How Did I Find the Best Work Pants for Construction Workers?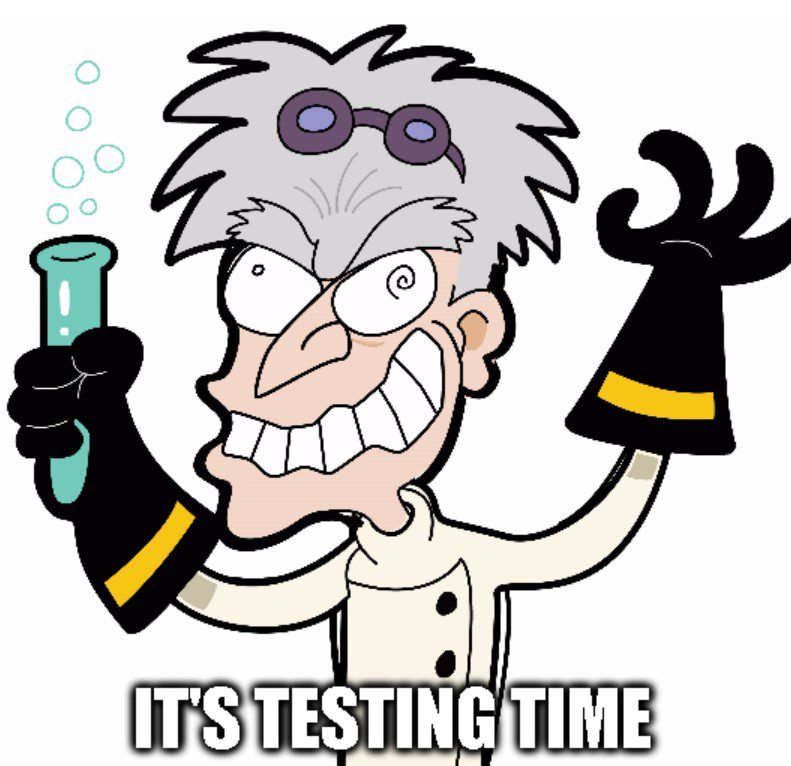 I performed various tests to find the best work pants for construction workers.
First, I paid close attention to how comfortable the fitted.
Then, I stepped things up by purposely moving around and squatting as I wanted to find out whether the pants in question would allow me to do my job without limiting my movements.
Finally, I checked if the fabric they were made with was comfortable and soft enough. Yeah, I'm a b**ch when it comes to reviewing products.
After doing those tests, I selected the ones that performed the best.
The 3 Features All Work Pants for Construction Workers Should Have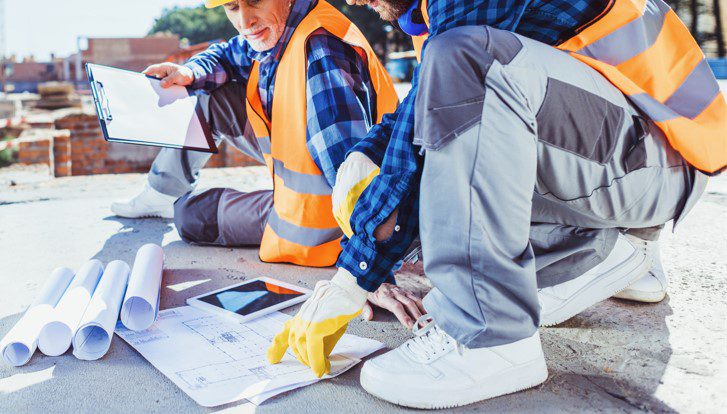 Convenience That Makes a Construction Worker's Life Easier
It's 9 A.M. You are in the middle of your work shift, and you need a tool you can't find anywhere. What if I told you could avoid those dreadful moments?
Well, with work pants that have lots of pockets and loops you'll be able to keep your most-used gadgets close by.
If you're a construction worker, chances are you don't like spending hours washing your pants every night, drying, and ironing them.
Thus, looking for the best work pants for construction workers could mean that you'll look for those made with easy-to-wash and fast-drying materials.
Heavy-Duty Attributes
I remember my first pair of work pants. They were cheap but seemed fine. I mean, they looked OK to take to the construction site… or at least that's what I thought! I don't have to tell you they broke after only a couple of months, right?
Due to this,… if work pants are not made with a rugged and durable type of fabric, like duck or hose fabric, I don't even consider it! Fabrics like the so-called "Cotton Duck" or those made from fire-hose are thicker and hold up longer under extreme conditions, extending the work pant's lifespan.
Moreover, getting work pants made with a flexible fabric might be a great idea as it'll let the pants adapt to your movements which will let you squat and do any movement you need to do at the construction site.
"Don't forget about buying knee pads!" That's what a coworker told me after asking him what features I should look for in work pants. Knee pads might seem unnecessary, but after using them for years I can tell you they are vital in my day today.
Comfort Features
Comfortable types of fabrics like cotton or other blends might be among the most comfortable features nowadays in a pair of work pants. Sometimes, companies will even blend with other fabrics–such as polyester–to make the material softer and lighter on the skin!
You should also pay attention to the style of work pants you're about to buy, as you must select the one that adapts the better to your body. For instance, some work pants are designed to be loose in the thigh or seat area, while others are the other way around. I mean, there're dozens of styles and you should get the one that adapts better to your body.
If you're wider in the thigh, choosing a pair of pants that's constricted in this region could cause a lot of discomforts, and there's really no reason for it.
5 Reasons Why I Find Most Work Pants Such a Pain for Construction Workers
They Break Easily
Unfortunately, we must deal with a market full of work pants that don't live up to their expectations and are constructed with low-quality materials.
Most of them are made using materials that get worn out in the most active areas of your body where a lot of stretching is involved, like the crotch and butt.
This means that you'll have to constantly buy new work pants to replace the ones that got destroyed.
Lack of Pockets and Pouches
The frustration I get when wasting time looking for tools is unspeakable!
And work pants don't help with this situation really, as they don't usually come with many pockets or pouches, or even loops that help you hold your most handy tools so that you don't have to constantly reach into your tool bag for them.
Hard to Wash & Easy to Stain
Like if not having pockets and loops wasn't enough, most work pants stain and wrinkle easily. The grease isn't easy to wash neither, and you need to use costly detergents to wash them over and over again.
Also, detergents are quite harsh and repeated washing only deteriorates the pants even more. I mean, it's a recipe for disaster.
Stiff and Scratchy Fabric
Most work pants are made with harsh and scratchy fabric which is irritating for the legs.
This happens in part because most of them are designed completely ignoring the fact that they have to be worn by humans working long shifts at construction sites!
Bad Fit
And if that wasn't enough, they also don't fit well. They're tight, especially in the crotch area which restricts your movements. You're always worried whether bending too much or stretching too much will rip the pants apart.
Getting your hands on a pair of work pants worth your money might seem impossible after reading this. Right?
Lucky for you, I spent weeks researching and testing various work pants to arrive at a strong list of the best work pants for construction workers which are shared in this article.