Note: Please be very aware that the information we provide about the products is neither intended nor implied to be a substitute for professional medical advice. Always seek the advice of your physician or another qualified health provider/therapist.
Construction workers are used to facing many issues when it comes to selecting their next back brace, such as:
Having their back braces completely wrecked after a few months of regular use
The odor that gets impregnated into their back braces
Back braces that don't provide the back support necessary when carrying around heavy tools, materials, and other elements
Most back braces made with hard materials that make the experience of using really uncomfortable
For this and other problems I took it upon myself to research and test various back braces to arrive at those I considered the best so you didn't have to waste time.
The 5 Best Back Braces for Construction Workers
This is the list of the best back braces for construction workers I arrived at after considerable testing and research:
1) The Best Value Back Brace: Mueller 255 Lumbar Support Back Brace with Removable Pad
Suffering from serious back pains after only a couple of hours after starting the shift at the construction site is the worst.
Luckily, with the Mueller 255 brace, you don't have to worry about this as it comes with an internal molded plastic component that eliminates rolling or bunching so you don't have to spend the workday completely uncomfortable.
Moreover, it has custom fit dual, elastic tension straps are so great that hold the brace in place all day and help you feel comfortable knowing the brace will stay in position.
Is it me or the last thing you want when you get home from work is dealing with a sweaty and smelly back brace?
Well if you want to avoid that then you might want to take a look at this Mueller 255 back brace as it has a breathable fabric that's designed to keep air-flowing all day and prevent sweat and odors.
Compressing your back muscles to relieve them and lower your back pain is one of the most important advantages of this Mueller back brace.
The double-layer design has adjustable compression for your abdomen and lower back that will not only relax those muscles but also let you do your work pain-free.
Getting this Mueller back brace might mean that all your back problems would be resolved thanks to its removable lumbar pad that supports the lower back.
It's been one week since you bought your back brace. Would you get mad if it wouldn't last you more than 2 months? Of course, you would, it's your hard-earned money!
In that sense, this Mueller 255 back brace uses a high-quality blend of 40% Polyester, 27% Rubber, and 33% Nylon to guarantee it maintains its structure providing an effective and strong back support.
Pros
Extra stability from flexible steel supports along the spine
Internal molded plastic component eliminates brace rolling or bunching
Custom-fit with dual, outer elastic tension straps
Double-layer design with adjustable compression of the abdomen and lower back
Removable lumbar pad cushions and compresses the lower back for concentrated support
Breathable fabric for comfortable all-day wear
2) The Most Comfortable Back Brace: BraceUP Stabilizing Lumbar Lower Back Brace and Support Belt
As construction workers, we can't afford to be limited in our movements or unable to work–we need a back brace with flexibility.
So, if you like having the freedom of movement, you'll like this BraceUP back brace as it not only lets you move without restriction but also provides enough support to relieve your back pain.
All construction workers need a breathable back brace. We don't spend our days sitting at a desk, we spend it out under the sun doing manual labor, and that means we sweating.
Luckily, this BraceUP has breathable mesh panels to release any excess heat or moisture, so when we do sweat, there's no feeling of discomfort and we can just continue doing our jobs.
Moreover, these back braces come with a curved design that provides a proper fit and minimizes bunching and slipping. Trust me, having to constantly adjust your back brace because it slips is downright annoying and it only puts you in a bad mood for the rest of the day.
Back braces have many benefits, but the most important one is without a doubt the compression it offers to a worker's back muscles.
Thus, having dual adjustment straps may just make this back brace one of the best for construction workers.
"Without proper back support, a back brace is jack sh**t". That's what my boss told me when I asked him what type of back brace he recommended me. I soon found out that he was absolutely right, the more support that a brace has, the better the brace is.
This is why I liked this BraceUp back brace as it comes with features such as its eight support stays that provide additional support to the back, providing that "extra edge" of performance at the construction site.
Pros
Permits full range of movement while providing comfortable support thanks to flexible structure.
Mesh panels release excess heat and moisture.
Curved designed for a proper fit to minimize slipping and bunching.
Eight stays give additional support to the back.
Dual-adjustment straps ensure you achieve customized support for the most comfortable fit.
3) The Best Quality Back Brace: AidBrace Back Brace Support Belt
Don't you just hate when your workday is completely ruined by an unbearable feeling of back pain?
I really hate it, which is why it was really nice to see how this AirBrace back brace came with a curved design that puts less pressure on the abdominal area so one doesn't suffer deep discomfort when bending over while using a back brace.
Additionally, this back brace came with a Removable Cushioned Lumbar Pad which is such an important feature as it gives reliable support throughout the workday that, in turn, gives you the confidence to work harder without worrying about pain or discomfort.
Every worker hates back pain which is why I really liked this AidBrace back brace, as it comes with double side straps for tighter tension adjustment. I mean, you just can adjust the straps for the amount of compression you need, which is really convenient.
Imagine yourself having to replace your back brace after only a couple of weeks of use because it smelled so bad that you couldn't even put it on. Would you like that?
Well, that's what I had to suffer from many other back braces considered by many to be "the best". You can imagine how happy I was to finally find a back brace, such as this one, that included attributes like its breathable vented mesh backing, that ventilates the back brace keeping it smelling fresh at all times.
Moreover, it's made with industrial durable materials made to give years of support, which is always a nice feature to have if you want to prevent wasting money.
For the best cleaning results, I recommend gently washing it with water and mild detergent so that it comes out looking new again.
Pros
Unique Removable Cushioned Lumbar Pad for Additional Support.
Breathable Vented Mesh Backing.
Double Side Straps for Tighter Tension Adjustment.
Curved Side Design to Provide the Best Comfort and Less Pressure in the Abdominal Area.
Industrial Durability Made for Years of Support
4) The Most Durable Back Brace: The ComfyMed CM-102M Premium Quality Back Brace
Unlike other back braces, which aren't designed for constant movement when in use, this one has a
removable lumbar pad
that prevents the brace from scratching, slipping, and bunching (issues that cause serious discomfort) so that you can achieve the best performance possible at the construction site.
If there's something I know is that construction workers love when their work gear makes their lives easier.
The fact that this brace has easy-grip handles may make it the best back brace for construction workers just as it is, as the handles let you put the brace on and wear it simply without worrying about it falling out of place.
Moreover, the ergonomic compression design gave a solid level of back compression during the testing period, which proved essential to keeping me safe from hurting my back.
There're many misconceptions about what is important in a back brace in terms of durability. In my opinion, it's all about quality materials.
The premium quality materials that the ComfyMed back brace uses are made so that it won't break apart even when used constantly, day after day, for many hours at a time. After all, there's really nothing more frustrating than having to go out and buy a replacement back brace just because part of it is worn down or broken off.
Finally, another feature of this back brace came with that blew my mind was its washable feature that helped keep it smelling fresh, even after using the back brace for 10-hours straight on hot and humid days.
Pros
Premium Quality: Most Durable Back Support Belt on The Market
Removable Lumbar Pad Which Doesn't Scratch, Roll, Slip, or Bunch
The Only Back Brace Available with Easy Grip Handles
Great Ergonomic Compression
5) The Cheap-But-Great Option: Back Brace by Sparthos with Lumbar Pad and Adjustable Support Straps
No construction worker likes to spend their hard-earned money in a back brace that doesn't provide the compression necessary to relieve and prevent back pain.
This is why I loved this Sparthos back brace, as it came with features such as its adjustable lumbar pad and vertical support stays that gave my upper and lower back the compression necessary to stimulate blood flow letting my back muscles rest and recover. Additionally, the stays also prevented the back brace from rolling when doing heavy lifting.
Additionally, this back brace was manufactured with breathable fabrics that let the airflow which not only kept my back dry but also kept the back brace from smelling at the end of my work shifts, which is a common problem for construction workers.
Fit is another big issue in back braces. I mean, you'll find MANY back braces that don't offer the needed fit to provide proper back support.
This is why I'm recommending this Sparthos back brace as, during the testing period, it was responsible for giving me strong and flexible back support which was consistent and reliable during the testing period. This was possible thanks to its adjustable design with flexible mesh and secure velcro, which, in combination, let the back brace adjust to my back as it was custom made for my body!
Pros
Adjustable lumbar pad that provides extra compression in the lower back
Vertical support stays to prevent rolling and stabilize your back with a firm support
Breathable fabrics avoid odor
Adjustable design with flexible mesh that provides great fit and avoids bulkiness
It has a secure velcro keeps the back brace in place in any movement
Easy to wash
My Verdict: The Best Back Brace for Construction Workers Is…
The ComfyMed CM-102M Premium Quality Back Brace
This back brace has the best combination of comfort, ergonomic, and especially durability features without a doubt, which is why I chose it as the best one. But, I really advise you to read the full review by clicking the button down below!
Quick Comparison Table
| Name | Comfort | Ergonomics | Durability |
| --- | --- | --- | --- |
| Mueller 255 Lumbar Support Back Brace with Removable Pad | 4.9 | 4.9 | 4.9 |
| BraceUP Stabilizing Lumbar Lower Back Brace and Support Belt | 5 | 4.8 | 4.9 |
| AidBrace Back Brace Support Belt | 4.9 | 4.9 | 5 |
| The ComfyMed CM-102M Premium Quality Back Brace | 4.9 | 4.9 | 5 |
| Back Brace by Sparthos with Lumbar Pad and Adjustable Support Straps | 4.8 | 4.8 | 4.7 |
5 Benefits of Using a Back Brace for Construction Workers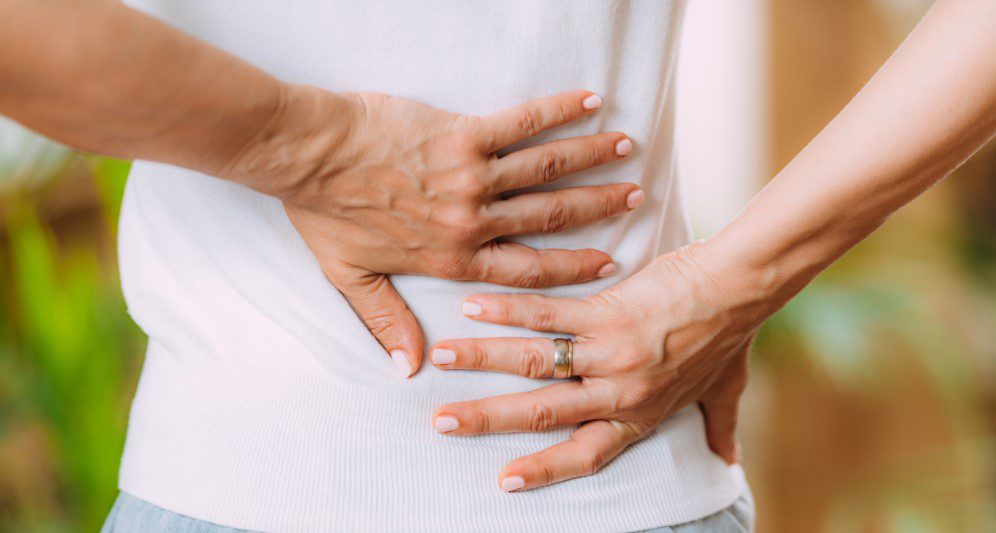 "What's really the point of getting a back brace?" you may be asking yourself.
Well, here are 5 reasons why construction workers would want to spend his hard-earned money on this type of item:
1. Supports Back and Gets Rid of Pain
There is nothing worse for your performance than working while suffering back pain.
However, if you're like me, you also won't want to waste your money on expensive medication.
A back brace, though, will compress the back muscles and relieve your pain. Not only is this healthier than having to down a bunch of pills, but you'll also be able to do your work pain-free, without wasting tons of money.
2. Avoids Injuries
It's the middle of the day at the construction site and you get a paralyzing pain in your back. If this has ever happened to you, you're probably aware of how painful having back injuries can be.
The nice thing about wearing a back brace, though, is that it will stabilize your back and prevent any damage from happening, which is something essential for all construction workers.
3. It's a cheap, fast and a Simple Solution
I remember the first time I went to a chiropractor to get my back fixed, I'll never go again. I wasted so much time and money on a doctor's appointment that didn't even last fifteen minutes.
After that, I decided to just buy a back brace instead and I haven't regretted it.
Not only are back braces cheap because they're made with common materials, and they're also easy to put on and work with, making the lives of construction workers much easier.
4. Corrects Your Posture
If you hate the thought of ending like those people who walk around with a hump on their backs, you better use a back brace!
If you've got bad posture, wearing a back brace will definitely help you correct it.
After all, the last thing you want is to end up with a hump, suffering back pain, or even a back injury because you've been dealing with bad posture for too long.
5. Speeds Up Natural Healing Process
All your body needs to recover is taking the proper time to heal up muscles and joints. But sometimes, due to work, you can't give the body that time, which is why back braces are such a great solution for construction workers.
The brace will support your back and give those muscles a rest, so they aren't being strained even while you're working.
This way, you can still work as hard as you need to while also looking forward to a faster recovery too.
The 4 Big Problems With Most Back Braces You'll Find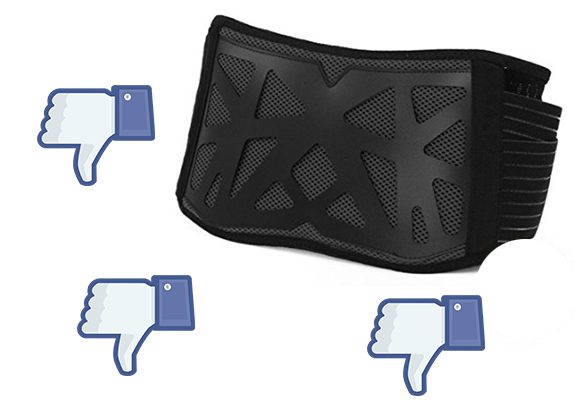 1) Scratchy Fabrics:
It's the middle of your workday. Things are going great until you start feeling your back brace scratching against your skin making you really uncomfortable.
By the end of the day, your back is completely irritated from the constant rubbing of the brace and you're leaving work in a bad mood.
Unfortunately, this is a common problem as most back braces are made with scratchy materials that don't work well with the skin of a construction worker's back.
2) Lousy Compression Features:
I remember the first time I wore a cheap back brace, it was so awful that it didn't even achieve the compression it was supposed to get.
This wasn't the last time I encountered this issue either, many back braces aren't compressive enough, and because of this, you'll end up getting hardly any relief from your back pain.
So, not only are you frustrated from wasting money on a useless back brace, but you're also in pain too.
3) Loose Grip:
If you like the benefits of a back brace, then you must make sure to hit just the right spot in terms of how tight it is.
I learned this the hard way from wearing back braces that weren't tight enough, many times.
Throughout the day, it felt like they didn't fit right and there was a constant discomfort from them continually moving in and out of place, which was really frustrating.
4) Sweat and Odor:
Don't you just hate the odor that your back brace is capable of generating?
A lot of back braces tend to get sweaty and overheated pretty fast because they just aren't breathable.
Not only is this uncomfortable, but it also leaves the brace with an unpleasant odor after you've worn it a few times. It sucks!
3 Must-Have Features I Look in All Back Braces
These are the features I look for when selecting back braces:
Comfort Features
A good back brace needs attributes that bring comfort to the construction worker's body, such as soft fabrics that won't scratch your back up.
What really makes a difference though is having soft materials on the exterior of the brace as this is where you can experience a lot of chafing. After all, there's nothing worse than having to come home from a long day at work and deal with a sore and inflamed back.
Getting a back brace means you are in urgent need of back support during working hours. In this case, I recommend looking for a back brace with a cushioned lumbar pad.
The cushioned lumbar pad supports your back and the muscle. That way, you can focus on what you came there to do, work.
Sweat and odor are your worst enemies when it comes to back braces. Most of them end up stinky and covered in sweat at the end of your workday. So, it's your job to find a back brace that's got a breathable mesh lining. The mesh lining helps with letting air flow keeping you back fresh and preventing odor from building up.
Ergonomic Features
Is it just me or the whole point of getting a back brace is the compression that relieves the back muscles?
Well, this is why it's so important to be able to find a back brace with enough compression to relieve any pain and back issues you might have.
Having a proper posture is everything when it comes to back braces, which is why it sucks every time a back brace losses its ergonomic qualities due to the pass of time.
It's important to find a brace not only stiff enough to provide support but will also continue to stay this way too.
Durability Features
If you don't want to end up wasting your money on poorly-made back braces, you need to look for back braces made with good quality materials that will stand the test of time.
Trust me, the frustration you save from finally having a decent, durable back brace is well worth it.
How Did I Choose The Best Back Braces for Construction Workers?
So, how did I make sure to choose the best back brace for construction workers? Well, I tested them, I tested them a lot. Actually, I made two specific tests to find the best of the best.
Would you like to know what tests did I do?
Let me show you…
Stress Testing
First, I did a stress test.
By using various back braces, I spent hours doing physical labor to see how the braces held up.
After all, construction work isn't an easy job, and the best back brace for construction workers would need to be able to maintain its position, compression, and support throughout the workday.
Sweat and Odor Resistance Test
I also used these back braces under the hot sun while wearing heavy clothes.
As someone who has dealt with sweaty back braces that have poor airflow, I know how important it is to make sure a back brace is a sweat and odor resistant.
Having to come home after a long day of work and wash a sweaty back brace is not something to look forward to.