You wouldn't want to spend hundreds of dollars on an impact wrench only to fall short in terms of torque, would you?
Well, that's exactly why high torque impact wrenches were made.
Designed to make your life easier, these powerful tools deliver extreme torque levels to tackle even the most unyielding bolts and fasteners.
In this guide, we'll explore how high torque impact wrenches work, their key features, benefits, and factors to consider when choosing one. Let's begin!
---
What is a High Torque Impact Wrench?
Imagine having a best friend who's strong enough to help you with those lug nuts that require some serious muscle.
Well… that's exactly what a high torque impact wrench is!
These tools are designed to make your life easier by delivering extreme torque levels that can tackle even the most stubborn bolts and fasteners.
Normally, high torque impact wrenches are larger and more powerful than their standard counterparts as they have beefier motors and internal components, which allow them to generate that extra torque needed for heavy-duty applications.
So, why would you choose a high torque impact wrench?
Well, there are many benefits that would justify investing your money in a high torque impact wrench such as its unmatched torque to deal with stubborn fasteners, its robuts design, and amazing durability.
Of course, these powerful tools come with a few trade-offs as they tend to be bulkier and heavier, which might make them less comfortable to use for extended periods. Also, their higher pricetags are another thing to consider.
Who needs a high torque impact wrench?
Common industries that utilize high torque impact wrenches include construction, heavy equipment maintenance, and industrial assembly as they usually need higher torque levels to tackle massive bolts and fasteners.
---
How Does a High Torque Impact Wrench Work?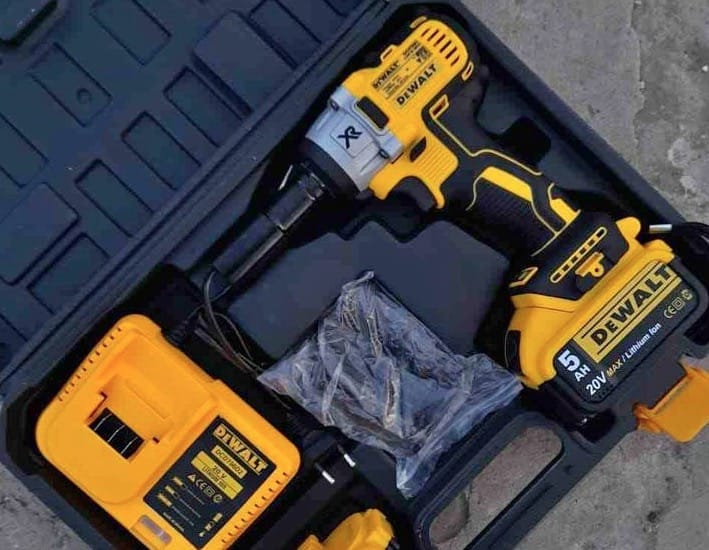 We learnt what an amazing tool a high torque impact wrench is. But, how does this amazing tool work its magic?
Let's break it down, shall we?
Here's the deal:
At the heart of this tool is a powerful motor – either air or electric – that drives a hammering mechanism that has a spinning mass, aka the "hammer," and an anvil that connects to the output shaft (where your impact socket goes).
When the motor spins the hammer, it builds up momentum and kinetic energy and, at just the right moment, the hammer slams into the anvil, transferring its energy as a high-torque impact
This rapid, powerful burst loosens or tightens fasteners, depending on the direction you've set the wrench to go
In a nutshell, high torque impact wrenches use their strong motors and hammer-anvil system to deliver quick, powerful impacts to easily deal with stubborn nuts and bolts.
---
Key Features of High Torque Impact Wrenches
Alright, let's dive into the key features that make high torque impact wrenches so special and effective:
Unstoppable Power: The primary reason you're considering a high torque impact wrench is for its exceptional torque that commonly ranges between 1,500 and 3,000 ft-lbs
Rugged Durability: When you're tackling demanding tasks, you need a tool that can keep up with you. That's where the robust construction and materials of high torque impact wrenches come into play, ensuring they can withstand whatever you throw at them.
Now, it's time to focus on some of the ergonomic and user-friendly features these wrenches offer to make your work experience more comfortable and efficient:
Ergonomic Design: These tools are thoughtfully designed to minimize fatigue during extended use, so you can work longer without sacrificing torque or comfort.
Lightweight Construction: Despite their remarkable power, some high torque impact wrenches are lighter than their competitors, making them easier to handle and transport.
Adjustable Handles: Many models feature 360° adjustable side handles that provide increased flexibility and control during use, allowing you to tackle tasks from any angle with ease.
But the innovation doesn't stop there.
High torque impact wrenches are also packed with advanced technology and cutting-edge design features:
Sophisticated Mechanisms: These wrenches often come equipped with state-of-the-art motor and hammer designs, ensuring consistent power and performance throughout their lifespan.
Extended Anvils: Some high torque impact wrenches come with longer anvil extensions, enhancing accessibility in hard-to-reach areas and expanding the range of applications they can handle.
---
Benefits of Using a High Torque Impact Wrench
So, you've heard about high torque impact wrenches, but what makes them stand out?
Let's dive into the benefits that make these powerful tools a must-have in your workshop:
Increased efficiency and productivity: With its exceptional torque output, a high torque impact wrench makes quick work of even the toughest nuts and bolts, saving you time and effort, and boosting your overall productivity.
Reduced fatigue and strain on the operator: Thanks to the high torque capabilities, there's no need to exert excessive physical effort to remove rusted or stubborn nuts and bolts. High torque impact wrenches do the heavy lifting for you, minimizing the strain on your body and allowing you to work comfortably for longer periods.
Versatility for a wide range of applications: High torque impact wrenches are designed to handle diverse tasks, making them an invaluable addition to your toolkit. From automotive repairs to construction and industrial applications, these versatile tools have you covered.
---
Features to Consider When Choosing a High Torque Impact Wrench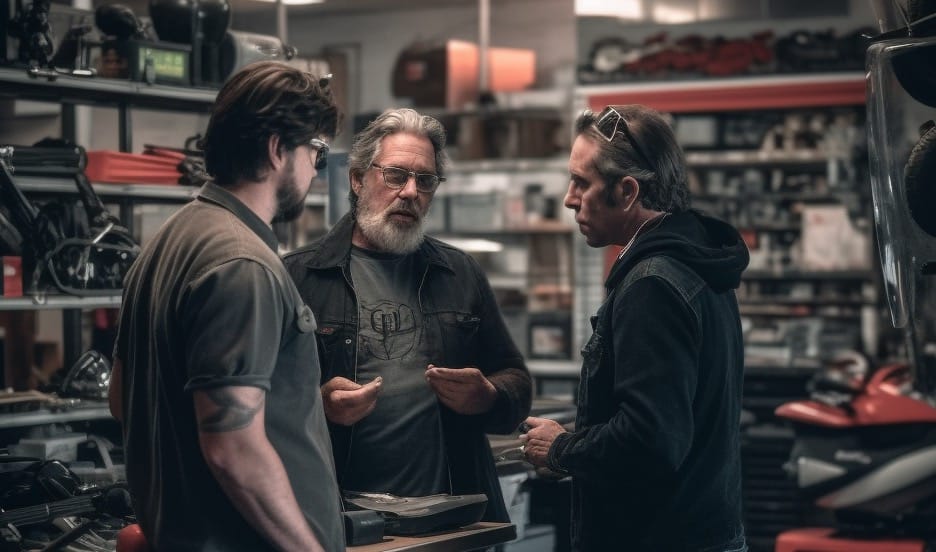 Here are some features to consider when looking for a high torque impact wrench:
Torque Output and Drive Size: Seek a wrench with a torque output that matches your specific tasks (which is usually around 1,500 to 3,000 ft-lbs of torque) and a drive size (e.g., 1/2″, 3/4″, and 1″) that accommodates the sockets you'll be using.
Weight and Ergonomics: Opt for a wrench that balances weight and ergonomic design, ensuring comfort and ease of use during extended periods of work
Durability and Build Quality: Choose a high torque impact wrench with a solid steel or metal construction so it can withstand heavy-duty use
Price and Warranty: Pay attention to your budget and the warranty provided by the manufacturer. Invest in a high-quality high torque impact wrench that offers good value for money and is backed by a reliable warranty for peace of mind.
---
Best High Torque Impact Wrench
Ingersoll Rand 2850MAX-6 1″ Extended Anvil Impact Wrench
This Ingersoll Rand 2850MAX-6 1″ impact wrench is specifically crafted to minimize fatigue as it is 25% lighter than leading 1″ wrenches saving you from doing arm workout when operating it.
With its solid steel impact mechanism, this wrench delivers 2,100 ft-lbs of torque. That's right – it's got more than enough muscle to tackle those stubborn, rusted-on bolts that have been laughing in your face.
Also, it's got a chemical-resistant housing and steel core that can endure drops and the harshest of work environments. Talk about rugged and reliable.
And, one of my absolute favorite features is the 360° adjustable handle which gives you full rotation, meaning ultimate flexibility when getting into those awkward spots where lug nuts and bolts are found.
Pros
Crafted to minimize fatigue, offering a lighter weight without skimping on torque (25% lighter than leading 1″ wrenches)
Solid steel impact mechanism that delivers 2,100 ft-lbs of torque
Chemical resistant housing & steel core which endures drops and harsh conditions
360° adjustable handle which offers full rotation for ultimate flexibility
Tangle-free cords
6″ anvil extension for easy accessibility for those hard-to-reach spots
Cons
Not for someone with weak arms
---
Frequently Asked Questions
While both impact drivers and impact wrenches are designed to deliver high torque for fastening and loosening fasteners, they have some key differences that set them apart:
Socket vs. Chuck: Impact wrenches use a square drive (commonly 1/4″, 3/8″, or 1/2″) to accommodate sockets, making them ideal for working with nuts, bolts, and other fasteners. Impact drivers, on the other hand, feature a hexagonal chuck (usually 1/4″) designed for holding screwdriver bits, making them perfect for driving screws, lag bolts, and other similar fasteners.
Torque Output: Impact wrenches typically offer higher torque output compared to impact drivers. This makes them more suitable for heavy-duty applications like removing stubborn nuts and bolts. Impact drivers, while still powerful, are better suited for lighter tasks like woodworking, assembling furniture, and general DIY projects.
Size and Weight: Impact drivers are generally smaller, lighter, and more compact than impact wrenches. This makes them easier to maneuver in tight spaces and more comfortable to use for extended periods.
Ease of Use: Impact drivers are designed for quick bit changes and one-handed operation, making them more user-friendly and convenient for tasks that require frequent bit changes. Impact wrenches, on the other hand, may require more setup and adjustments for socket changes and torque settings.