Workers in seek of the best cheap cordless impact wrenches deal with many issues, such as:
Most cheap cordless impact wrenches do not have the necessary torque to deal with rusty and stuck bolts
Cheaper cordless impact wrenches tend to be corded which is really inconvenient as cables put a limit on how far can you go and tend to be on your way most of the time
Most impact wrenches are really big and difficult to fit into tight spaces, which is something essential for a lot of workers
These problems require specific features (such as potency, comfort, portability, durability, etc) that are difficult to find in the same tool, especially at an affordable price.
Luckily, with this article, I managed my way through many cordless impact wrenches to find those that did not only solved ALL OF THE ISSUES but also did it at an affordable price.
List Of The Best Cheap Cordless Impact Wrench
The next list of affordable cordless impact wrenches was personally selected and tested by me:
1) Bosch
IWHT180B

18V Lithium-Ion Cordless Impact Wrench
Power
Many times, rusty or old bolts refuse to budge and the only tool that's gonna be able to deal with them is a powerful impact wrench. In that sense, this Bosch IWHT180B cordless impact wrench helped me get the job done right.
Thanks to its 500 lbs of max torque, those rusty bolts came loose with ease during the testing period. I mean, it didn't only make my job faster, it saved me the physical toll of multiple attempts at loosening or fastening the same bolts.
The motor is one of the most important elements of a tool and, in this case, it provided 1,900 RPM (Revolutions Per Minute) with 2,100 IPM (Impacts Per Minute). Together, these features made this impact wrench powerful enough to tackle any stuck bolt.
Convenience
After power, convenience is what I look for in a cordless impact wrench.
In that account, this Bosch impact driver came with a narrow design of the tool's nose and a 10-inch length which let me work in tight with ease. Once working in those kinds of spots, the lightweight 6.7 pounds let me work without fatiguing my arms, shoulders, and back.
If I know something is that when I use a heavy and oversized impact wrench I tend to suffer a lot. The good news is that this Bosch cordless impact tool came with an ergonomic soft-grip handle which made it comfortable to hold while a truly flat anvil design made my life much easier as it allowed the easy changing of sockets.
Finally, this impact wrench came equipped with LED lights making the darkest spots brighter.
Durability
Bosch, a Germany-based company, prides itself on high-quality design and manufacturing products with the best components.
Not only does this Bosch impact wrench offer top-quality performance in a compact design, but it also lets me choose the type of battery pack to use. Whether it's a Slimpack or Fatpack battery, usage levels and battery life are tightly monitored which gives me the confidence to take on job after job. To be honest, it's a great buy for the price, a product of top-notch German engineering, I wouldn't doubt on getting it.
Pros
Thin Design Nose Piece Allows Getting Into Tight Spaces
Ergonomic Soft Grip Handle
True Flat Anvil Design Makes Changing Sockets Easier
Built-In Led Light
500 Ft Lbs Of Max Torque
6.7 Lbs And 10-Inch In Length
Spring-Loaded Hammer And Anvil
1,900 Rpm With 2,100 Impacts per minute
2) Makita Xwt08Z Lxt Lithium-Ion Cordless Impact Wrench
Power
The brushless motor gives this tool a leg up on the competition by delivering a higher torque. I mean, I get 740 lbs of max torque and 1,180 lbs of breakaway torque which is more than enough to fasten or loosen even the rustiest bolts.
Additionally, the 220 IPM (Impacts Per Minute) completes the list of features I need in a wrench as it means more power in a smaller package. I mean, I don't get as tired and I can keep working on after job with minimal frustration, which is exactly what I look for in any impact wrench.
Unlike other cordless impact wrenches, this Makita offers a power selection switch that lets one choose between 3 speeds. Customizing the power output for each job means I can take more work while saving battery life. Pretty good, huh?
Convenience
Battery life is essential when buying your next cheap cordless impact wrench. And, being used to getting low-quality battery life with cheap tools is very common which made the task of finding a good quality tool in that sense very difficult. The good news though, is that this Makita cordless impact wrench came with a strong battery life which left me very surprised and happy.
The usefulness doesn't stop there, however, as this wrench came with a ½" anvil with friction ring which helped me a lot in my daily tasks as it made changes between sockets quick and easy.
Durability
I'm used to getting cheap cordless impact wrenches that don't use the "latest" technologies.
Things were totally different when it came time to test this Makita impact wrench as it came with a brushless motor that sets this wrench apart from other "affordable" competitors. Let me explain, without the carbon brushes, this motor runs cooler and, thus, more efficiently which gives it a longer life. In fact, the motor is electronically controlled to optimize battery use provides up to a 50% longer run-time per charge.
Pretty good, huh?
Pros
Bl Motor Delivers 740 Ft. Lbs. Of Max Torque And 1,180 Ft. Lbs Of Breakaway Torque
3-Speed Power Selection Switch (0-900/0-1,000/0-1,800 Rpm 0-1,800/0-2,000/0-2,200 Ipm) Provides Precise Fastening Control
1/2″ Anvil With Friction Ring For Quick And Easy Socket Changes
Brushless Motor
3) Dewalt Dcf899P1 20V Max XR Cordless Impact Wrench
Power
This DEWALT DCF899P1 cordless impact wrench does everything right and gives me the satisfaction of having chosen the best tool for my jobs.
First, it features a brushless motor which gives the tool a superior performance and torque while keeping it safe from overheating.
As I move from task to task, the heavy-duty impact mechanism of this DeWalt delivers a max torque of 700 ft./lbs. and a breakaway torque of 1,200 ft./lbs which is surprising for such an affordable tool.
Moreover, this tool came with a 3-speed selector switch which allowed me to control adapt the power output easily. For an easy job, the 0-400 RPM speed is fine. But if I needed more, I could go all the way up to 1,900 RPM which delivers the highest power to unscrew any rusty bolt.
Convenience
Getting into tight places during the testing period was no problem for this DeWalt impact wrench as it came with a compact design of only 8-13/16 inches in length. I mean, I was able to reach tight places with ease and keep working without suffering any discomfort as the tool was really lightweight (only 7.2 lbs!).
Additionally, its LED light increased my visibility ensuring I didn't miss a thing. These kinds of details are not only helpful but also tough other affordable impact wrenches.
Durability
I hate seeing my money go to waste on low-quality products. But unfortunately, I'm very used to this.
However, this impact driver breaks that rule as it comes with a brushless motor that makes this tool powerful and ultra-durable. Without the heat buildup of traditional motors with brushes, the internal components last longer while delivering a lot of power.
Pros
Brushless Motor
Heavy-Duty Impact Mechanism With Max Torque 700 Ft./Lbs., Breakaway Torque 1,200 Ft./Lbs.
3-Speed Selector Switch For Control
Battery Fuel Gauge
Compact Design Of 8-13/16″ In Length
Weighs 7.2 Lbs.
Multi-Speed Control For A Variety Of Applications (0-400/ 1,200/ 1,900 Rpm).
Led Light With 20-Second Delay For Increased Visibility.
4) Makita Xwt11R 18V 1/2″ Lxt Cordless Impact Wrench
Power
This Makita impact wrench featured a brushless motor that delivers 210 ft./lbs. of Max Torque helping me loosen even the toughest bolts. Moreover, this motor is electronically controlled to optimize battery energy use which gave me up to a 50% longer runtime per charge.
To guarantee that the battery is not wasted this tool comes with a 3-speed power selection switch which lets one adapt its velocity to different applications. For smaller jobs, the 0-1,600 RPM setting is enough. However, for tougher jobs, I go for the 0-2800 RPM setting which outputs the necessary power to unscrew even the toughest bolt you could think of.
Convenience
In terms of convenience, this Makita cordless impact wrench featured a compact and ergonomic design making it easy to reach tight spaces and work there for long periods of time.
At only 5-¾" long, this wrench is perfect for small-sized spaces. Additionally, the LED charge level indicator helped me to monitor battery life to decide which job I could take next without risking running out of battery.
Pros
Bl Brushless Motor Delivers 210 Ft. Lbs. Of Max Torque
Compact And Ergonomic Design At Only 5-3/4″ Long
3-Speed Power Selection Switch (0-1,600 / 0-2,100 / 0-2,800 Rpm 0-1,800 / 0-2,600 / 0-3,500 Ipm)
5.0Ah Battery Combines More Run Time With A category-leading Charge Time Of Only 45 Minutes
On-Board L.E.D. Charge Level Indicator To Monitor Battery Charge
5) Milwaukee 2554-22 M12 Fuel 12V Cordless Impact Wrench
Power
This Milwaukee 2554-22 cordless impact wrench came out of the box ready to tackle whatever I had on my plate.
It's powerful and proves it with 250 ft./lbs. breakaway torque that can loosen even the tightest bolts.
Moreover, the 4-mode drive control allows customizing the power output to whatever task I was working on during the testing period.
Convenience
Measuring only 4.8″ in length, this tool fits in tighter spaces which is much to say for a tool that is affordable as those tend to be much bulkier in my experience.
Moreover, when this wrench comes with an auto shut-off mode that prevents over fastening bolts which could end up breaking them, generating even a bigger headache.
Durability
The brushless motor combined with different battery options makes this tool durable and ready for any application.
It's powered by an M12 REDLITHIUM battery that provides a longer runtime per charge running a POWERSTATE brushless motor which produces less heat and thus less wear and tear on other internal components.
This kind of durability, from the battery to motor, is what will keep this Milwaukee affordable impact wrench in my toolbox for a very long time.
Pros
4.8 In. In Length
250 Ft.-Lbs. Breakaway Torque
4-Mode Drive Control
Auto-Shut Off Mode Reduces Over Fastening
Powered By M12 Redlithium Batteries
Powerstate Brushless Motor
RedLink Plus Intelligence Prevents Damage To The Tool And Battery Due To Overloading Or Overheating
My Verdict: The Best Cheap Cordless Impact Wrench
Dewalt Dcf899P1 20V Max XR Cordless Impact Wrench
If you wanna know why I chose this DEWALT cordless impact wrench as the best cheap cordless impact wrench available, then you should check its review by clicking the button down below.
Quick Comparison Table
| Name | Comfort | Convenience | Durability |
| --- | --- | --- | --- |
| 1) Bosch IWHT180B 18V Lithium-Ion Cordless Impact Wrench | 4.7 | 4.7 | 4.7 |
| 2) Makita Xwt08Z Lxt 18V/1/2″ Lithium-Ion Cordless Impact Wrench | 5 | 4.9 | 4.9 |
| 3) Dewalt Dcf899P1 20V Max XR Cordless Impact Wrench | 5 | 5 | 5 |
| 4) Makita Xwt11R 18V 1/2″ Lxt Cordless Impact Wrench | 4.9 | 4.8 | 4.9 |
| 5) Milwaukee 2554-22 M12 Fuel 12V Cordless Impact Wrench | 4.9 | 4.8 | 4.8 |
How Did I Test The Best Cheap Cordless Impact Wrenches?
These are the tests I did to select the best quality affordable cordless impact wrenches:
Power Test
The power features of each cordless impact wrench by constantly using the tools to unscrew and unstuck rusty bolts which is the most common usability for these types of tools.
Those that performed the best in this part were selected for further testing.
Convenience Test
With each cordless impact wrench I got to test I would ask the following questions:
Does it vibrate when in use?
Is it made with an ergonomic design?
Does it have different motor velocities?
Is it lightweight?
Does it come with led lights?
Those tools that had positive answers to these questions were chosen to continue with the durability test.
Durability Test
I made sure to work with these tools for months without switching to see if they were resistant enough. I mean, I'm known in the community and I don't want to be known for giving sh***y buying advice on tools that don't last more than a few months.
Must-Have Features For The Best Cheap Cordless Impact Wrench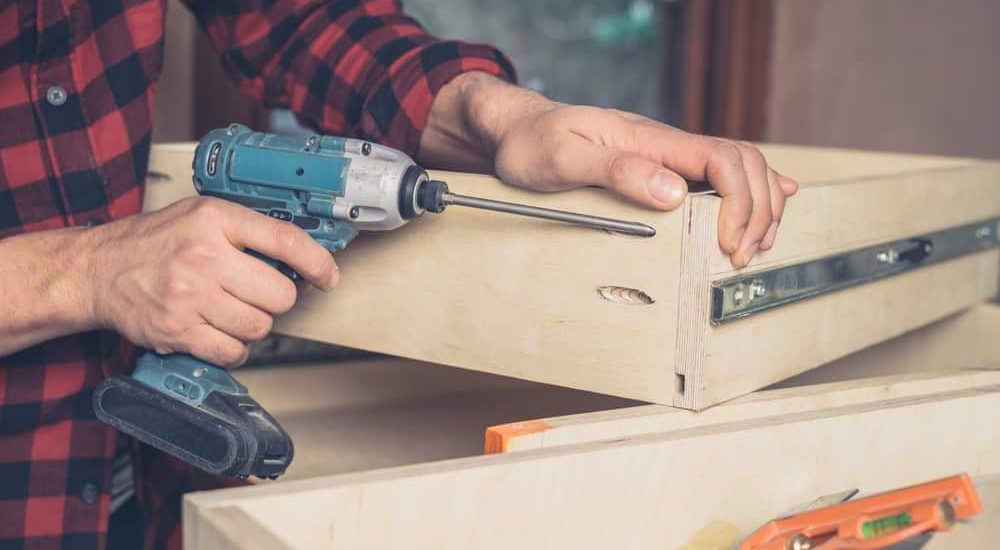 The best cheap cordless impact wrench must gather a group of attributes to be powerful, comfortable, convenient, and (more importantly) durable.
These are the features I recommend:
Power Features
When looking for affordable cordless impact wrenches you will look for tools that provide enough power and torque to unscrew rusty lugs, nuts, and bolts without the need to spend all your energy doing manual labor.
Moreover, you should look for features such as speed customization as, in this way, you'll have the guarantee that all the tasks that need different levels of power are efficiently taken care of.
Convenience Features
I also recommend spending enough time to find compact and lightweight cordless impact wrenches as you'll have to carry these tools all day long and work with them in tight places where only small tools fit.
Moreover, other convenient features such as
Ergonomic design that lets you operate these tools for many hours without suffering from cramps or arm pains
Led lights to illuminate when working in dark areas
are also recommended as they'll make your life much easier.
I mean, don't get me wrong, it'll be hard to find all these attributes in inexpensive impact wrenches, but it's definitely worth trying.
Durability Features
To maximize durability, you will need to look for features such as:
Brushless motor (as it doesn't heat internal components when in use)
Long-lasting battery
Top-quality materials, and a good structure to hold them together.
as you'll guarantee yourself to avoid that deep feeling of frustration you get after seeing your $100+ tool get wrecked after less than 6 months of regular use.
Benefits Of The Best Cheap Cordless Impact Wrench
There are a lot of benefits related to getting the best cheap cordless impact wrenches, the following are some of the most important ones:
Maximum Convenience
Convenience and affordability tend not to be in the same sentence when talking about affordable impact wrenches. I mean, when you google "cheap" something, you are expecting to resign to convenience in the name of affordability.
Well, the good news is that with any of the products reviewed in this article you will get the highest convenience possible as the tools will be compact, lightweight, durable, and will powerful enough to let your unscrew even the rustiest most stuck bolt, nut or lug without issues.
Save Time
Nobody wants to see their hard-earned money spent on a cordless impact wrench that isn't powerful enough to help them with rusty bolts.
The good news is that any of the tools exposed in this article have really strong motors that output a considerable torque that will make any job fast and easy.
Avoid Frustration Of Wasting Your Money
When buying something "cheap" you are more than open to sacrificing some features for the price. However, what you don't want to resign is durability. I mean, nobody wants to see their expensive tool get ruined after only a few months.
Luckily, I made sure to list and review cordless impact wrenches with proper durability features to guarantee that your new tool survives through years of heavy use without any issue.
Frequently Asked Questions
These are some of the most frequent asked questions about the best cheap cordless impact wrenches:
What Is The Difference Between An Air Impact Wrench And A Cordless Impact Wrench?
Air impact wrenches are known for having great torque and for being easy to maintain as they don't have many electronics as part of their internal structure. However, these wrenches are dependant on an air tank and air compressor. This means that the tool will always be hooked to the compressor with a hose, which is not only annoying but is also a tripping hazard.
On the other hand, a cordless impact wrench will not need a hose to be able to operate. In fact, it will offer a pretty good torque running on its battery-powered motor alone. However, these tools tend to be a bit more costly to maintain and cost a few bucks more (at least the good ones).
What's The Difference Between Impact Drivers And Impact Wrenches?
A lot of people ask me about this, so I thought it was a good idea to address it in this article.
An impact driver and impact wrench do basically the same; they use a high torque and hammering blows to screw/unscrew nuts and bolts.
The big difference is that impact wrenches normally have much more torque than impact drivers and cordless drills. This makes them really good for tougher jobs. Moreover, impact wrenches (especially the cordless versions) are known for being a bit more expensive.
What Is The Main Difference Between Lithium And Nickel Cadmium (Nicad) Batteries?
NiCad batteries are based on old technology which makes them cheaper but also heavier. Moreover, they are known for holding a really annoying and really short charge.
Lithium batteries, on the other hand, are newer batteries manufactured using the latest technologies. This makes them a bit more expensive but also more compact and known for holding a longer charge, which is an essential feature for a cordless version of an impact wrench.
It was hard to find affordable cordless impact wrenches with lithium batteries, which are by far my favorites. But, being the hard-head that I am, I did my best and I ended up finding a nice selection of tools that were powerful and used lithium batteries.
Which Is The Perfect Voltage For The Best Cheap Cordless Impact Wrench?
You will find cordless impact wrenches with either: 18, 20, or 36 volts.
As you might already know, a higher voltage lets the tool use more power to deliver a higher torque.
As to the question, I would tell you to consider all the tasks you would the impact wrench for to have a good idea of the power requirements you'll ask from this tool. The higher the torque you need, the higher voltage you should go.
I made sure to do a list of affordable cordless impact wrenches with different levels of voltage so you can have a nice selection of tools that will adapt to your different needs.
What Does The "Ah" Mean For Cordless Impact Wrenches?
"Ah" stands for Amperage Hours. This, in other words, speaks about the capacity of the battery. With higher Ah, the battery will last longer without the need of being charged. Thus, the higher the Ah the easier and more convenient the tool will be to operate. If you pay attention, you will find that the cheaper tool options will have a lower "ah" rating (duh!).
However, I made sure to select those tools that were both affordable and had a good battery life at the same time to make your life easier :).
What's The Difference Between Torque, Ipm, And Rpm?
A lot of workers are confused by this terminology which is why I thought it would be nice to clear things up.
IPM means Impacts Per Minute and RPM stands for Rotations Per Minute. Both of those terms speak about the potency and power of a given cordless impact wrench.
The metric you will always find is torque, which speaks about the power and forces the motor outputs.
Both the IPM and RPM will increase proportionally as the torque increases, which is why I recommend only paying attention to torque as this figure summarises the power capabilities of the tool.
What Is The Difference Between Max. Torque And Nut-Busting Torque?
Nut-busting torque stands for the torque the tool can output to unlock a rusty bolt by applying repeated shocks to it.
Max torque, on the other hand, is the maximum torque the wrench can apply (both forward and reverse) at any given moment
Can You Remove Bolts In Good Condition with a Cordless Impact Wrench?
This will depend directly on the power you choose to work with.
If you are experienced enough and select the minimum velocity necessary to unscrew the bolt you will be able to remove it without breaking it. However, if you choose the maximum torque, there is a bigger chance of breaking said bolt.
Being conservative and getting a feeling of the tool before going full-force is the best advice I could give you to avoid ruining bolts.
Are Any of The Reviewed Tools An Overkill?
No. I mean, besides the fact that they are affordable, I made sure to list tools that were not only powerful but also adjustable. I did this to let you choose the different velocity and power for each job you deemed appropriate so you would be able to conveniently save on power.
In that sense, I don't think any of the tools I reviewed are overkill.