Nowadays, tool bags are what I like to call "storage havens" that keep our expensive tools organized and protected.
The thing is that not all tool bags are created equal, and choosing the right manufacturer can get a bit tricky.
"But how do I choose," you ask?
Well, there are a lot of manufacturers to choose from: Veto Pro Pac, Klein Tools and plenty more. Each got their unique story and specialties which I'll discuss (and compare) in this article.
Let's do it.
---
Checklist for Evaluating a Tool Bags Manufacturer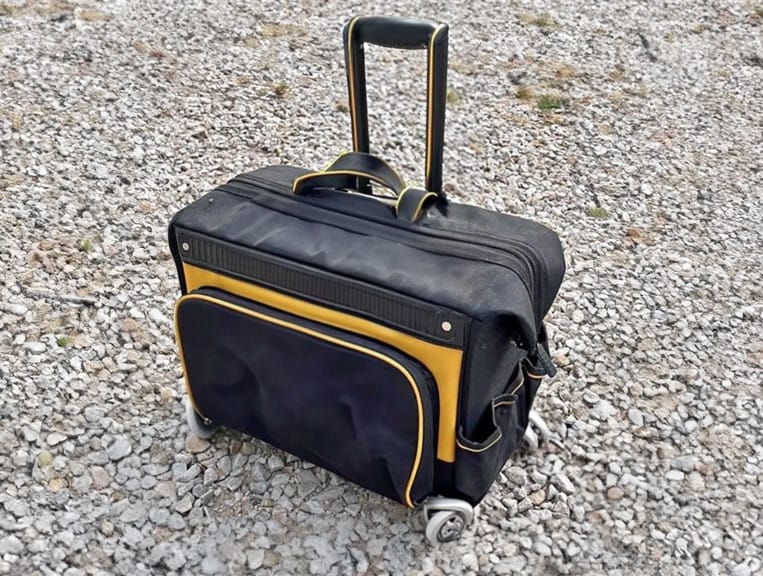 It's time to take a deep breath, straighten your hard hat, and take a dive into what really matters when it comes to picking a tool bag manufacturer.
Material Quality:
I always look for tool bags manufacturer that use canvas, leather and nylon as their main materials for their products.
But why these materials, you may ask? Simple. They're as tough as nails.
Whether you're carrying around heavy power tools or not, these materials can stand all that tossing that a regular tradesman puts their tool bags under.
Trust me, you don't want to be picking up your precious tools from a muddy construction site because the bag decided to tear open.
Pro-tip: Always choose manufacturers that have good certifications for their tool bags. It is an assurance that the bag you're getting has gone through rigorous testing and can handle the demands of heavy-duty use.
Design & Functionality
Hands up who can remember the last time you had to rummage around, trying to find a tool in a bag as deep as a bottomless pit?
We've all been there, right?
That's why I'd tell you to look for manufacturers that manufacture their tool bags with lots of pockets and compartments as they'll allow you to know where every tool you got is located.
Also, try to find manufacturers that use zippers which don't stick or jam in their tool bags. A smooth glide can save you a lot of frustration.
As for loops and hooks, I think that while these might not be the deal-breaker I believe they surely make your life a lot easier, providing quick and easy access to your tools. So, finding a tool manufacturer that offers those is not a bad idea.
Price Range
Knowing your budget is the first step before diving into the world of tool bags.
Trust me, it's easy to get carried away with all the fancy features and end up spending more than you planned.
So, what's your spending limit?
If you're looking to spend no more than $100, you might want to consider affordable brands like Husky or Ox Tools. These brands offer good quality without breaking the bank.
On the other hand, if your budget is a bit more flexible, say $150 or more, you could explore premium brands like Veto Pro Pac or Klein Tools. I've had the chance to use a Veto Pro Pac, and the quality is top-notch, especially if you're a professional who needs a reliable tool bag day in and day out.
Warranty & Customer Service
And now for the two unsung heroes – warranty and customer service.
I can't stress enough the importance of a warranty. If a manufacturer believes their product is solid, they'll offer a good warranty period. It places the risk on them, not on you.
And when it comes to customer service, good customer service takes a load off your back, ensuring that you get the help you need, when you need it.
---
Tool Bag Manufacturers List and Comparison
Armed with the previous checklist, we're all set to actually compare the best and most popular tool bag manufacturers.
But first, let me tell you which are those manufacturers.
List of Tool Manufacturers
Veto Pro Pac: Known for high-quality materials and rugged design.
Klein Tools: Popular among electricians for specialized compartments.
ToughBuilt: Innovative designs featuring modular compartments.
Custom Leathercraft (CLC): Specializes in leather tool bags with various pocket designs.
Milwaukee: Durable and functional, often used in heavy-duty applications.
Stanley: Offers a wide range of options, from basic to feature-rich.
DeWalt: Reputable for durable and versatile tool bags.
Hilti: Focuses on specialized bags for the construction industry.
Facom: European brand noted for high-quality materials and craftsmanship.
Makita: Known for ergonomic design and durable materials.
Veto Pro Pac
When you're looking for a turtle shell-like protection for your tools, you might want to turn your eyes towards Veto Pro Pac.
These bags are practically synonymous with 'high-quality materials' and 'rugged design.' I mean, they don't mess around when it comes to material selection – they use weatherproof body fabric, which means these tool bags can easily resist a rainstorm or even a dust storm a dust storm.
Thanks to the generous amount of pockets (think somewhere around 40 to 60), you'll have specific spots for your tools, which cuts down the "where's my wrench" common issue time to practically zero.
And these pockets are arranged in a smart way, ensuring your heavy tools don't end up squishing the smaller ones.
Now, Veto Pro Pac tool bags won't be the cheapest on the block, but quality comes at a price, and honestly, it's worth the investment if you ask me.
Klein Tool Bags
Klein tool bags are particularly favored in the electricians' circle, and once you get to know them, you'll see why.
One very distinct feature of their tool bags is their specialized compartments which lets you easily arrange all your screwdrivers, strippers, and pliers.
They are also custom-designed to cater to electricians' specific needs, so if you're juggling wire connectors, conduit benders, and fish tapes, Klein's got your back!
When it comes to materials, expect treated canvas and heavy-duty nylon more than traditional leather. But their tool bags still stand test of time, which is what really matters.
Speaking of prices, Klein Tools sit comfortably in the midrange.
I mean, they're not giving away their products, but they won't demand your savings either. It's a good balance between affordability and functionality.
ToughBuilt Tool Bags
ToughBuilt's tool bags use innovative designs that make use of modular compartments.
You can plug, position, and move compartments as per your needs – giving you the power to customize your toolbox to your particular needs.
They use rugged, high-quality nylon for construction, allowing their tool bags to take a beating withstanding ample weight and resisting tears and abrasions.
Given their impressive quality and durable construction, you might expect a hefty price tag. But that's where ToughBuilt shocks and impresses as their tool bags that won't push your budget over the edge.
CLC Tool Bags
This brand believes in the timeless appeal and durability of leather, so if you're a fan of old-school charm and strength, CLC is your stop.
Their bags come with lots of pockets – from the smaller ones for tools like screwdrivers, wrenches, and pliers, to larger compartments for power tools.
Also, the organization is made smoother with their vertical pockets that make locating your tools faster. As for the price, CLC sits just about right, offering a balance between cost and value.
Milwaukee
Milwaukee banks on high-density canvas and hard-wearing nylon for their bag construction which are materials are meant to face tough use head-on, standing tall no matter what's thrown at them.
Plus, their abrasion and tear resistance mean that even sharpest tools won't have them sweating.
When it comes to pockets and compartments, Milwaukee uses plenty of interior and exterior pockets, there's a spot for pretty much everything you need on a jobsite.
The well-thought-out layout is perfect for organizing your tools, saving you from the dreaded 'endless search.'
Expect to pay a moderate to high price for Milwaukee tool bags due to their solid build quality and functionality. But for the bucks you're parting with, you're getting a seriously tough bag that's well worth the investment.
Stanley
You'll find sturdy canvas and durable nylon in Stanley's tool bags which allows them to endure serious weight and rough usage.
Plus, water and tear resistance mean that these bags can take a knock or two ( or three, or four) and still keep your gear safe inside.
In terms of compartments, Stanley offers plenty – from small pockets for screws and nails to larger ones for those hunky power tools.
Stanley tool bags range from lower to middle price range making them accessible to hobbyists, trainees, and experienced workers alike.
DeWalt
DeWalt packs highest-grade materials into their bags, with their sturdy canvas and heavy-duty nylon standing against wear, tear, and weather.
You can lug around your heaviest tools without worrying about them causing havoc inside.
With numerous pockets, it's easy to distribute and organize your gear. And thanks to the open design, you can simply glance inside to locate the tool you need without annoying rummaging.
Most of DeWalt's tool bags fall into the mid-range pricing category. They're not the cheapest, but they offer good value for their cost.
Hilti
Hilti uses hardcore nylon that makes their tool bags rough and resistant to adverse weather.
Also, most of their tool bags are puncture-resistant, so rain or shine, your tools stay secure.
These tool bags are stuffed with an array of pockets and compartments, perfectly calculated for your convenience.
Specific pocket designs mean your tools stay put, regardless of their size or shape.
For all of the practically indestructible build, and the well-thought-out design, Hilti tool bags inevitably come with a premium price.
Facom
Materials that go into Facom's are heavy-duty fabric for strength and resistance against wear, tear, and weather elements.
This manufacturer offers lots of interior and exterior pockets in their tool bags, which means your tools will remain protected and well organized.
Tool layout is drastically simplified with the clear division of space, making locating your gear faster.
With their upscale build and high-quality fabrics, I do have to say that Facom tool bags come at a premium (we're talking $200+ here).
Makita
Makita normally uses rip-resistant and water-resistant fabric in their tool bags that gives you the strength and dependability you need from a tool bag.
Their tool bag layout's designed to cater to your tools and accessories, heavier ones finding refuge inside, and lighter ones having external pockets to be stored in.
This means quicker access without giving up on organization.
Taking into account their durability, practical design, and the convenience of an organized arrangement, Makita bags fall into the middle to high-end price range. Costlier? Yes. Worth it? Absolutely.
---
Comparison Table
| Manufacturer | Materials Used | Pockets and Organization | Price Range |
| --- | --- | --- | --- |
| Veto Pro Pac | Rugged weatherproof body fabric | 40-60 pockets, smart arrangement | High-end |
| Klein Tools | Treated canvas and heavy-duty nylon | Specialized compartments for electricians | Mid-range |
| ToughBuilt | High-quality nylon | Modular compartments | Budget-friendly |
| Custom Leathercraft (CLC) | Top-quality Leather | Vertical pockets, large and small compartments | Balanced cost-value |
| Milwaukee | High-density canvas and hard-wearing nylon | Interior and exterior pockets | Moderate to high |
| Stanley | Sturdy canvas and durable nylon | Small to large compartments | Lower to middle |
| DeWalt | Sturdy canvas and heavy-duty nylon | Numerous pockets, open design | Mid-range |
| Hilti | Hardcore nylon | Array of pockets and compartments | Premium |
| Facom | Heavy-duty fabric | Interior and exterior pockets | Premium |
| Makita | Rip-resistant and element-resistant fabric | Internal and external pockets | Middle to high-end |
---
Frequently Asked Questions
What brands are like ToughBuilt?
There are quite a few brands out there in the same alley as ToughBuilt (meaning a budget friendly tool bag manufacturer). The first one that pops to mind is CLC – Custom LeatherCraft. Their innovative designs and focus on functionality can give you some ToughBuilt vibes. Then you have the well-regarded Husky that offers durable and versatile tool bags and pouches. Klein Tools can be another alternative for electrical guys looking for pockets aplenty and unique storage solutions.
What tool brands do professionals use?
Professionals (like carpenters, HVAC technicians or plumbers) reach for manufacturers who've withstood the test of time and the rigors of the job site. DeWalt, for instance, is a staple in any professional's toolbox – from carpenters to electricians. Stanley is another heavyweight champion, and they've been in the game since your grandpa was in diapers. Milwaukee is a common favorite, known for its innovation and reliability.