As an HVAC technician, one of the main tasks I do is fixing and installing big HVACs systems. I know this kind of work can sound scary to some people but actually, it's not… PROVIDED one has all tools accessible.
That's how tool bags become essential for HVAC technicians. Sadly, these workers have to deal with various issues related to their tool bags, such as:
Low-quality materials used which substantially reduce the lifespan of the tool bags
Bulky materials that make tool bags heavy and uncomfortable
Lack of pockets and compartments big enough to store all the tools an HVAC technician needs
All these issues are solved with a specific combination of features in a tool bag which is really hard to find. The good news for you is that I was the one who took the time to research and test various tool bags to arrive at the following list.
The Best HVAC Tool Bags For Absolute Convenience
After thorough research this is the list of the best tool bags for HVAC technicians:
1) Husky HVAC Tool Bag
Hard-to-Match Convenience
As an experienced HVAC technician, I can vouch for the fact that compactness matters a lot in our line of work.
In that sense, this Husky tool bag comes with features such as its dual zipper compartment that has the capability to store tools of many sizes which is a very convenient attribute you can't see in other tool bags.
Finally, it also comes with three external pockets which let me keep my tools categorized separately for easy access and simple visibility.
Tough Durability and Smart Comfort
In terms of durability, this tool bag was made of a 600-denier water-resistant material that secured its reliability even in tough conditions like rain and snow. This meant that, during the testing period, I didn't have to worry about going to work on those extra gloomy days where chances of rain were high.
Now, as to its comfort features, this tool bag proved to be a highly portable model very easy to carry around thanks to its portable design and lightweight materials.
Pros
600-denier water-resistant material.
Dual-zipper main compartment for storage of different sized items.
Three external pockets for organization.
2) Carhartt Legacy Tool Bag 18-Inch HVAC Tool Bag
Resistant and Easy Access
This extra sturdy and highly compact tool bag made by Carhartt is every HVAC technician's dream tool bag as it offers so much convenience!
What I liked about it the most during the testing period were its
big main compartment to store big power tools
28 exterior
16 interior pockets
which let me store a huge variety of tools without issues.
On top of that, the tool bag came with an internal metal frame that kept this item in its original shape without collapsing even when I would throw the tool bag around.
Proven Effective Durability and Uncomplicated Comfort
This Carhartt Legacy Tool Bag isn't only convenient but also looks good and is extremely durable.
It was made of a carefully molded, load-bearing, and abrasion-resistant material that let it carry a good amount of weight without breaking. In fact, I can tell you without reservations that all the tools an HVAC technician needs can be properly stored and organized very easily in this Carhartt bag.
But, in my opinion, the coolest feature was undoubtedly the tool bag's water-resistant capabilities made possible with its synthetic fabric. This material was treated with the so-called "Carhartt Rain-Defender Water Repellent" that proved to be of use for keeping the tools safe when the tool bag got in contact with the rain. To top things off, the tool bag only weighed 5lbs which made it crazy light.
Moreover, with features such as:
Triple-needle stitch construction
YKK zippers
Ergonomic haul handles
this tool became one of the most comfortable and rugged tool bags for HVAC technicians I have ever tested.
Pros
Molded, load-bearing, abrasion-resistant base
Internal metal frame allows for easy access and prevents the bag from collapsing on itself
Triple needle-stitch construction
Rugged haul handles
YKK zippers
Abrasion-resistant base
Large, zippered main compartment
28 exterior pockets and loops and 16 interior pockets
Made of sturdy synthetic fabric with Rain Defender durable water repellent
3) Veto Pro Pac-MC HVAC Tool Bag
Purposeful Convenience
Shaped quite similar to a school backpack, this lightweight Veto Pro Pac-MC tool bag offers many handy features.
First, it comes with 20 vertical pockets both on the interior and exterior where I could safely store a broad range of my tools without worrying about them falling.
As part of the tool bags' design, the engineers at Veto incorporated a big compartment to store and protect bigger tools such as cordless drivers and the sorts.
Outstanding Durability and Amazing Comfort
For a product that's so affordable, this Veto Pro Pac-MC tool bag certainly outshines many of its competitors in terms of durability.
For instance, it's made of a 3mm injection molded waterproof polypropylene at the base and PVC impregnated denier nylon for the rest of the body making it certainly one of the sturdiest HVAC tool bags I've ever tested.
Finally, it has two large and five small-sized D-Rings which were to blame for making the tool bag amazingly comfortable to carry around everywhere I would need to take the tools to.
Pros
Vertical Tool Pockets: 20 interior and exterior
Meters and compact cordless drill/driver compartment
Waterproof Base: 3mm Injection Molded Polypropylene
D-Rings: 2 large and 5 small
Waterproof Body Fabric and Tool Pockets: PVC Impregnated Denier NylonWaterproof Tool
4) VETO PRO PAC Model XL HVAC Tool Bag
Best Durability for an HVAC Technician
To begin with, this tool bag was made using a superior weatherproof fabric that kept my tools safe from getting ruined by coming in contact with water. This feature makes this tool bag perfect for HVAC technicians that might occasionally have to walk with their tool bags outside on a rainy day.
Additionally, the bag has heavy-duty zippers that stop tools from falling off which is a great add-on to prevent expensive tools from getting ruined.
Perfect Convenience and Innovative Comfort
For those HVAC technicians looking for convenience in their everyday life, this VETO PRO PAC Model XL tool bag fits the bill.
Not only did it hold dozens of my tools during the testing period, but it also came with 61 vertical and 6 zippered pockets that let me organize and isolate all these tools in a way that kept them safe and accessible.
Apart from that, this Veto bag has an innovative ergonomic design that consists of nonslip padded shoulder straps and over-molded grips that makes carrying around this tool bag to various locations on the same day (which is very common for most HVAC technicians out there) something manageable.
Pros
3mm Injection Molded Polypropylene Waterproof Base
1800 PVC Impregnated Denier Nylon Waterproof Body Fabric
Injection Molded Nylon Plastic Handles w/ over-molded rubber grip
Vertical Tool Pockets (inside): 48 inside & 3 outside
Flat Zippered Pockets (outside): 4 inside & 2 outside
D-Rings: 4 large and 5 small
Exterior Electrical Tape Loop
Double Stitched, Heavy Duty Plastic Coil Zippers with Oversized Zipper Tabs
Industrial Strength Double Nylon Stitching
5) Custom LeatherCraft 1539 18 Multi-Compartment Tool Carrier
Worthy Comfort
It seems the guys at LeatherCraft knew what they were doing when they designed this tool bag.
Measuring only 18 inches in length, it's definitely one of the most portable tool bags an HVAC technician could carry nowadays.
During the testing period, its padded shoulder straps made carrying the tool bag much easier than many others I've personally tested in all my years as an HVAC technician.
High-Value Convenience and Additional Resistance
Offering a total of 50 pockets, this nifty little tool bag should be of high-value for the regular HVAC technician.
I mean, not only does this tool bag have all the basic features a tool bag should possess, but it also incorporates a lot of advanced attributes such as:
zippered side panels
and a large center compartment
which not only let me store small but also sizeable tools (such as a corded drill) and other vital spare parts making things a lot easier compared to other tool bags.
Moreover, this tool bag has a heavy-duty poly fabric and equally robust double-zippered top closures that efficiently stored and protected all my tools no matter how many of them were stored in the bag. Also, thanks to its poly ballistic trim and binding the bag was resistant to external elements that could damage either the bag or the tools being carried.
Pros
50 Pockets
Large center compartment to carry multiple power tools
Zippered side panels prevent spillage of tools when carrying or storing carrier
Vertical tool pockets keep them in sight for quick access
Heavy-duty poly fabric
Robust double-zippered top closures
My Verdict: The Best HVAC Tool Bag is…
Veto Pro Pac-MC HVAC Tool Bag
Would you like to know why I think this is the best HVAC tool bag? Then check out its review by clicking the button down below!
Quick Comparison Table
| Name | Convenience | Comfort | Protection |
| --- | --- | --- | --- |
| Husky HVAC Tool Bag | 4.8 | 4.9 | 4.9 |
| Carhartt Legacy Tool Bag 18-Inch HVAC Tool Bag | 5 | 5 | 4.9 |
| Veto Pro Pac-MC HVAC Tool Bag | 5 | 5 | 5 |
| VETO PRO PAC Model XL HVAC Tool Bag | 4.9 | 5 | 5 |
| Custom LeatherCraft 1539 18 Multi-Compartment Tool Carrier | 5 | 4.9 | 5 |
The Must-Have Features of The Best HVAC Tool Bags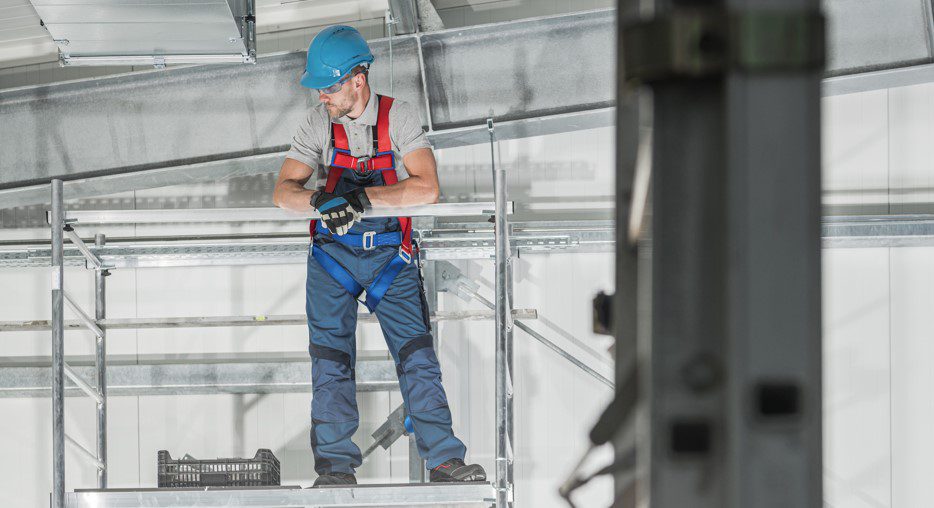 Time-Saving Convenience
Having all your tools in one bag accessible and easy to locate when you need them is essential. Otherwise, you may end up losing vital time which cannot be recovered.
Personally, I always look for tool bags with lots of pockets, both big and small, that I use to keep my tools organized and easily accessible.
The tool bag should be designed to accommodate both small and big tools in their own separate compartments, this way one can access them at any time without struggling.
Worthy Durability
I once had a cheap tool bag with a small hole at the bottom, each time I went to work I noticed that one or two tools were missing. You can imagine the kind of stress I went through trying to figure out where I placed these tools.
No HVAC technician would want to waste money replacing lost tools. Thus, I recommend that you avoid cheap tool bags that break easily when excess weight is added to them.
You should go for tool bags manufactured using top-grade materials which gives the guarantee that an HVAC technician can store as many tools as they need without putting the state of the tool bag at risk.
Comfort When Carrying Around Tools
As an HVAC technician, I know that carrying around a variety of spare parts and tools is an unavoidable part of the job.
My recommendation is to get a tool bag that's been manufactured with comfortable materials (such as padded shoulder straps) and ergonomically designed to evenly distribute the weight of the tools which is vital for avoiding back, neck, and shoulder pain.
How Did I Choose The Best HVAC Tool Bags?
Manufacturers offer tool bags that don't have the necessary features to make an HVAC technician's life easier.
To address this situation, I went ahead and tested as many tool bags as I could test and selected the best ones based on different criteria.
I personally tested them for many months just to be sure the tool bag I was reviewing was the correct one. If the tool bag in question was comfortable, convenient, and durable enough to help the regular HVAC technician then it was listed and reviewed in this article.