Most people looking for an affordable angle grinder under 100 dollars (whether it'd be to cut wood, metal or even quartz) have to deal with certain issues that seem to be present with most tools that fall in this category, such as:
Bulky and heavy angle grinders made this way to save on costs without any importance given to ergonomics or usability
Difficult mechanisms that make the tools difficult to use
Lack of power to complete a job successfully
Angle grinders that don't last more than 6-12 months because manufacturers decided to go cheap on really important components
I'm not gonna tell you it was easy to make this article. However, I can tell you that I enjoyed the process of researching and testing many tools to finally arrive at my list of the best angle grinders under 100 dollars.
List Of The Best Angle Grinders Under 100 Dollars
After meticulous research, this is the list I arrived at:
1) Dewalt Dwe402 Angle Grinder
Low-priced angle grinders tend to be made with uncomfortable and sometimes painful materials.
The Dewalt DWE402 Angle Grinder has the exact features to deal with this problem like its uniquely small gripping surface which allows a comfortable and reliable grip. The side handle is also ergonomic making it easier to hold when one has to grind for a longer period.
Unlike other cheaply-made grinders, this grinder has a quick-change wheel release which allows a tool-free wheel removal. No more using a wrench to release the wheel and using precious time in doing so!
Moreover, the 1-touch guard allows for 360-degree rotation with just a single move which substantially speeds up the grinding, which is much to say for an angle grinder this cheap.
Rather than leaving you stuck with a low power motor just to save on manufacturing costs, this grinder uses an 11 Amp AC/DC 11,000 RPM motor to deliver the best power to weight/size ratio available. Additionally, This motor is backed by a top-mounted and protected spindle lock button that maximizes the depth of cut without compromising durability.
Many cheap angle grinders use low-quality materials to save on costs resulting in the need of replacing the tools much sooner than expected.
To solve that issue, this Dewalt angle grinder uses important features to keep the grinder up and running such as its Dust Ejection System that works to remove dust and debris particles that enter the tool when grinding.
Finally, its Auto-off feature shuts the tool down when the brushes need replacing to avoid damaging the tool, which is much to say for a tool of this price.
Pros
11 Amp Ac/Dc 11,000 Rpm Motor
The Dewalt Dust Ejection System Provides Durability By Ejecting Damaging Dust And Debris Particles
Auto-Off Brushes Shut The Tool Down When The Brushes Need Replacing To Avoid Tool Damage
1-Touch Guard Allows For 360-Degree Rotation Of The Guard With A Single Action
Quick-Change Wheel Release Allows Tool Free Wheel Removal
Top Mounted And Protected Spindle Lock Button Maximizes Depth Of Cut
Uniquely Small Gripping Surface
2) Makita 9557PBX1 Angle Grinder 4-1/2″ Paddle Switch Cut-Off
The Makita 9557PBX1 Angle Grinder is an affordable angle grinder, unlike many others.
Rather than using cheap materials that make the grinder bulky, this tool uses high-quality materials to make it easy to use.
A small diameter barrel grip adds substantial comfort while the AC/DC switch allows the use of an alternative power source.
It also has a rotating gear housing that can be positioned in 90-degree increments which, in combination with the lock-on or off feature that allows continuous operation, makes this tool really convenient.
The power on this Makita outshines other grinders.
Rather than using a cheaply made motor that doesn't deliver power in heavy applications, it has a powerful 7.5 Amp motor that delivers up to 11,000 RPM for higher output. I mean, power is definitely not a problem with this grinder.
Durability stands out as a feature of this tool too.
The all-ball bearing design stands apart from angle grinders made with cheap components as it makes it durable and able to stand the test of time. As if that wouldn't be enough, the labyrinth construction seals and protects the motor and bearings from dust or other debris extending the lifespan of the tool.
Pros
Powerful 7.5 Amp Motor Delivers 11,000 Rpm For High Output Power
Small Diameter Barrel Grip (Only 2-1/2″) For Added Comfort
Labyrinth Construction Seals And Protects The Motor And Bearings From Dust And Debris For Longer Tool Life
Lock-On/Off Feature For Continuous Operation
Ac/Dc Switch For Use With Alternative Power Source
Protective Zig-Zig Varnish Seals The Armature From Dust And Debris For Longer Tool Life
Extra Large Paddle Switch For Comfortable Operation
Thicker Coil Wires Are Wound More Closely To Reduce Heat And Energy Loss
All-Ball Bearing Design And Metal Gear Housing For Durability
Rotatable Gear Housing Can Be Positioned Every 90
3) Bosch 1375A Angle Grinder 4-1/2-Inch
Many angle grinders can be big and bulky, a consequence of skipping the use of high-quality materials just to save on manufacturing costs.
This is why it's easy for this Bosch 1375A angle grinder to stand apart from its competition with features that make it convenient and comfortable to use.
Its two-position side handles contoured to a natural ergonomic holding position provides maximum operator comfort and its weight of only 3.75 lbs makes this affordable tool really lightweight, especially for working on long jobs.
Its functionality is aided by a versatile ⅝" to 11" spindle that works with a wide array of sizes.
This Bosch angle grinder takes care of power with its 6.0 Amp motor that delivers 11,000 no-load RPM which makes it perfect for professional cutting and grinding applications, unlike other grinders with inferior poorly-made motors.
The guys at Bosch made sure that this angle grinder was really well built to ensure long-term durability.
The epoxy-coated field windings keep the tool safe from abrasive dust while the Service Minder Brush System stops the motor when preventative maintenance is required, thus, leading the user to take proper care of the tool. This takes the guesswork out of maintaining the tool, which is a really advanced feature for a tool of this price if you ask me.
Pros
Powerful 6.0 Amp Motor Delivers 11,000 No-Load Rpm
Epoxy-Coated Field Windings Provides Protection Against Dust
Lock-On Slide Switch Provides User Comfort For Extended-Use Applications
Two-Position Side Handle Angled To A Natural Position
Weight of Only 3.75 Lbs.
Versatile 5/8 In. To 11 In. Spindle Works With A Wide Array Of Sizes
Burst-Protection Guard For Additional User Security
4) Black+Decker BDEG400 Angle Grinder Tool, 4-1/2-Inch, 6.5-Amp
Low-priced angle grinders are built with materials that make holding the tool really uncomfortable, especially after a long period of time.
When grinding, you need a tool that reduces vibration and is built with lightweight materials to reduce fatigue levels as much as possible.
The Black + Decker BDEG400 angle grinder delivers on that department as it comes with a 3-position side handle that provides additional comfort and control when grinding on all types of materials and from every angle possible.
This tool is really convenient too, thanks to its spindle lock that makes changing accessories a breeze.
This grinder is powerful, with a motor that operates at up to 10,000 RPMs. This is very unique, especially compared to other grinders that typically rely on low-potency motors that can't deliver the power needed to get the job done.
Durability is important in a grinder, especially if you have a tight budget. I mean, you'll want to make the most out of your investment, right?
Getting this Black + Decker angle grinder might be a great decision if you're looking for a durable tool as it features a metal gear case that substantially extends the lifespan of the tool.
Pros
6 Amp Angle Grinder Is Ideal For Sharpening, Cutting, Grinding, Removing Rust, And Surface Preparation.
Grinder Features A Metal Gear Case
3-Position Side Handle That Provides Added Comfort
Spindle Lock For Easy Accessory Changes
The motor operates At 10,000 Rpm
5) Dewalt DWE4011 Angle Grinder, One-Touch Guard, 4-1/2-Inch
You will never have to worry about the job ahead with this Dewalt DWE4011 Angle Grinder as it has a
dual-position removable side handle
that makes holding it for a longer period really comfortable.
Moreover, its slim and ergonomic body design provides increased comfort, especially in extended use applications. I mean, it stands apart from other cheap angle grinders I have tested which often rely on bulky materials to save a little money.
It continues to stand out with features like its Quick-Change™ wheel release which is a feature that substantially improved the experience I had with this tool during the testing period as it allowed a tool-free wheel removal, which is a known inconvenience with many angle grinders. You don't need a wrench to change wheels saving time and letting you focus on the job at hand.
It's the One-Touch™ guard that eliminates the need for a tool to adjust the guard location saving you even more time.
In terms of power features, this Dewalt angle grinder surprised me a lot as it was made using a 7 Amp motor which delivers up to 12,000 RPMs which is great for a stronger level of grinding.
Oftentimes, angle grinders are manufactured with cheap materials to save on construction costs. It's an unfortunate problem that really annoys me, but that I have become more used to with the pass of time.
However, that's not the case with this DEWALT angle grinder as it comes with features such as its low-profile jam-stop gear case that guarantees durability while allowing the tool to fit into tight spaces.
Pros
7 Amp Ac/Dc, 12,000 Rpm Motor
One-Touch Guard Eliminates The Need For A Tool To Adjust The Guard Location
Low Profile, Jam-Pot Gear Case
Quick-Change Wheel Release Allows Tool-Free Wheel Removal
2-Position Removable Side Handle
Slim, Ergonomic Body Design
5/8″-11 Spindle Thread Accepts A Wide Range Of 4-1/2″ Accessories
This Product Runs Off Of Ac/Dc Power
My Verdict: The Best Angle Grinder Under 100 Dollars Is…
Makita 9557Pbx1 Angle Grinder 4-1/2″ Paddle Switch Cut-Off
If you'd like to know why I chose this Makita 9557PBX1 angle grinder as the best angle grinder under 100 dollars, then click the button down below, it will redirect you to its review.
Quick Comparison Table
| Name | Convenience | Power | Durability |
| --- | --- | --- | --- |
| 1) DEWALT DWE402 Angle Grinder | 4.8 | 4.7 | 4.8 |
| 2) Makita 9557PBX1 Angle Grinder 4-1/2" Paddle Switch Cut-Off | 5 | 5 | 5 |
| 3) Bosch 1375A Angle Grinder 4-1/2-Inch | 5 | 4.9 | 5 |
| 4) BLACK+DECKER BDEG400 Angle Grinder Tool, 4-1/2-Inch, 6.5-Amp | 4.9 | 4.8 | 4.8 |
| 5) DEWALT DWE4011 Angle Grinder, One-Touch Guard, 4-1/2-Inch | 4.9 | 4.8 | 5 |
How Did I Test The Best Angle Grinders Under 100 Dollars
There is a specific process I followed to get to what I think are the best angle grinders under 100 dollars.
Comfort Test
First, I tested how heavy and bulky the angle grinder being reviewed was by making sure to use the tool for longer periods of time without putting it down.
Moreover, I made sure to test each function to see how easy (or difficult) it was to use. I paid special attention to how easy the angle grinder was to change the discs as it's one of the most important features for me.
Protection Test
I tested how well the angle grinder performed in terms of power, which is a department in which the affordable versions of this tool under-perform.
Durability Test
And finally, given that this article search for the "affordable" versions of these best angle grinders, I made sure to stress test the tools for weeks on end for long hours to see if they were durable enough to be recommended.
Must-Have Features For The Best Angle Grinders Under 100 Dollars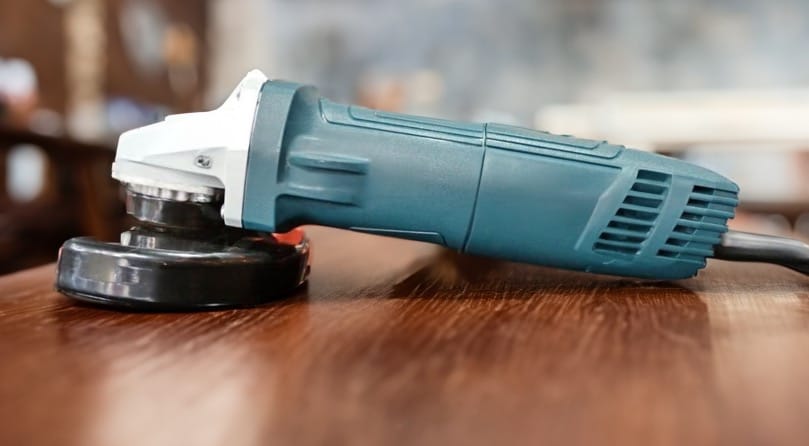 The following is a list of features you should look for in your next angle grinder:
Convenience Features
Lightweight Materials
Most affordable tools tend to be bulky and heavy as manufacturers want to save as many costs as possible to reach and boost profits.
This is why I recommend making an extra effort and getting an angle grinder with lightweight materials as this is the best way to avoid the discomfort and frustration of carrying around heavy tools and feeling your arms burning after a few minutes passed after starting grinding.
Vibration Reducing Handles
Moreover, getting an angle grinder with vibration-reducing handles is the best way to make sure that your next affordable angle grinder will be easy to use and light on your arms, especially if you're used to grinding for the bigger part of the workday.
Low Complexity Mechanisms
Most cheap angle grinders you can find spread all over the market are frequently made with really difficult mechanisms that make the user experience awful.
The best decision here is getting a tool with simple features that will substantially increase your productivity as the tool will now be much easier to use.
Power Features
Brushless Motor
Most angle grinders under 100 dollars are manufactured with low-potency motors that are inefficient for most grinding applications.
The best way to solve this issue is looking for angle grinders with features such as a brushless motor as this will not only be powerful enough to tackle any task but also be essential for the durability of the tool.
Durability Features
Durable Parts
Durability is a key problem for all affordable tools. I mean, I don't have to explain to you that manufacturers will do ANYTHING to maximize profits. And, when you are offering cheap angle grinders, most manufacturers tend to save money by using low-quality materials in key parts of the tools they offer.
However, there are some angle grinders made with high-quality materials out there, and my recommendation is to spend as much time as needed to find those as that will be the only way to avoid wasting your money on bad tools.
Benefits Of The Best Angle Grinders Under 100 Dollars
The following is a list of benefits that you will enjoy almost instantly after getting any of the best angle grinders under 100 dollars reviewed in this article:
Let Your Arms Relax
When getting any of the best angle grinders under 100 dollars you will get not only an affordable tool but also one that is light as it's made with lightweight materials that make the tool comfortable to use.
Speed Things Up
Another great advantage of choosing any of the tools already reviewed in this article is that you will be able to make your workflow much faster as the tools come with easy-to-use mechanisms that make grinding much simpler.
Avoid Frustrations
Nothing is worse than watching your latest investment underperform or just break apart after a few months of regular use, right?
Well, the good news is that any of the tools reviewed in this article have great features known for being both powerful and durable which is not-so-common in angle grinders, especially in the "affordable" ones.
Frequently Asked Questions
Certain questions tend to repeat themselves when it comes to getting a new and affordable angle grinder. This is my attempt to trying to answer those questions so you don't have to waste time:
What Are Some Safety Tips For Using An Angle Grinder?
There is a list of tips I always give when it comes to using angle grinders:
Make sure to wear work gloves and a face shield so the sparks can't injure your eyes
Unplug the angle grinder when you have to switch disks to prevent any unwanted injuries
Always maintain a firm grip, you don't want the angle grinder slipping from your hands when it's on
Use guards if possible
Make sure that no one is close when grinding to protect them from the sparks
If any flammable objects are close, make sure to put them away so the sparks don't ignite flames
When using new wheels, make sure to run the tool for a minute or so in the air to be sure everything is working good
Make sure to position the angle grinder at an angle that sparks and debris fly away from your face and not directly to it.
Can You Cut Metal With An Angle Grinder?
In short, yes you will be able to cut through metal using an angle grinder. But that doesn't mean it will be easy. You will have to get wheels specifically purposed for cutting metal. These are very thin and can be bought at any hardware store.
How Can I Remove An Angle Grinder Disc?
There are various ways to remove a disc, with and without tools. My personal preference is doing it with my hands as is fast and efficient.
But, before doing anything, you have to make sure that the power is turned off. I mean, you don't want to cut off a finger for not being careful, right?
To remove the disc with your hands what you have to do is striking the disc in a direction that is opposite to the disc arrow as it's the best way to loosen up the nut which makes it much easier to remove the wheel.
How To Remove The Disc With Wrench Spanners?
As I told you before, there are different ways to remove the angle grinder's disc with tools. One of those is using spanners.
To do this, you will have to find the two holes located in the drive bolt, located between the motor and the disc, and secure the bolt on the disc's bottom with the spanner. Then turn the pronged part of the spanner in the opposite direction that of the disc arrow to loosen it.
Pro tip: If there is a button on the tool that holds the disc in place, of course, press it.
How To Remove The Disc With Vice Grips?
Put the vice grips in the bolt to stop the angle grinder's wheel from spinning. Then place a screwdriver in the hole situated between the wheel and the motor and start unscrewing and loosening the wheel.
Can I Use An Angle Grinder For Polishing?
Yes, you can use an angle grinder to polish. A lot of people do this.
The key is making sure to use a disc specifically made to treat the material you're trying to polish and applying the correct polishing compound to make the surface look as good as new.
Can Angle Grinder Cut Wood?
You could, but there are risks associated.
Normally, these tools have a level of speed that shoots out little particles of dust or debris at high speeds in the opposite direction. If you were to cut wood, instead of debris you'd have to deal with chips of wood flying into your face and body which could hurt your sight.
This is why I recommend getting other tools better designed to cut wood.
Can Angle Grinder Cut Concrete?
In a few words, yeah. But again, make sure to use the proper wheel for the job.
What Blades To Use To Cut Through Concrete?
Well, you have a few options:
Segmented rim angle grinder concrete blades: These have rims with a toothed pattern that lets air flow which cools the blade. This is especially handy when doing dry cuts on concrete as a lot of heat can be generated.
Turbo rim angle grinder diamond blades: These are specifically designed to work at really high speeds cutting through concrete. They have holes scattered all around to avoid the material from getting stuck in the blade. Moreover, thanks to their turbo rim air can flow freely through the blade making it perfect for a dry or a wet cut on concrete.
Continuous rim angle grinder diamond blades: Given their rims, these blades do not have a good system for cooling which makes them unfit for cutting through concrete.
What Protection Measure To Take When Using An Angle Grinder To Cut Through Concrete?
There are a few security measures to take when using an angle grinder to cut concrete:
Make sure to use safety goggles to protect your eyes, safety gloves to provide a good fit, and a face shield (if possible) to make sure that the debris doesn't affect your vision and respiratory system.
Use a safety guard before even starting to cut through concrete
Never use long sleeves, but if you do make sure the sleeves are not loose so they can't get stuck in the wheel of your angle grinder.
Can Angle Grinder Be Used As Sander & Grinder?
Yes, in fact, it's pretty easy and cost-effective.
The key for sanding with an angle grinder is using flap discs. Thanks to their overlapping flaps in their outer parts, when installed on an angle grinder the sanding process becomes straightforward.
Are Angle Grinder Discs Interchangeable?
Yes. In my opinion, it's best to change the discs when they are 2/3 the size they were when they were new.