One of the most important considerations when purchasing an impact wrench for automotive work is its size.
And, if you're new to this, it'll be difficult to know for sure because there isn't much information available to answer this particular question.
The thing is, there are specific factors to consider when determining the size of your impact wrench, at least that's what I learned over my decades of experience.
Let me share what this factors are so you can make a proper decision and not end up regretting it.
---
What Size Impact Wrench Do I Need for Automotive Work?
Let's identify and discuss the factors to consider when deciding the size of your next impact wrench for automotive work.
1. Vehicle Size
One of the most common mistakes people make when choosing the size of an impact wrench for automotive work is failing to consider the size of the vehicle they'll be working on.
The size of the vehicle you'll be working on will determine the amount of torque required, which will in turn affect the size of the impact wrench you should purchase.
So, the rule is:
Small to medium-sized vehicles

will require torque levels that a 1/2 impact wrench can comfortably yield for both their tires and engines. If you select a larger size impact wrench, you will not only waste money, but you will also risk stripping the lug nuts due to over-torquing.

For larger vehicles or trucks

, I believe a 3/4-inch or even a 1-inch impact wrench is the best option. Whether you're changing tires or working on engines/suspensions, you'll need more torque, which only a larger impact wrench can provide.
2. Budget
Buget is a big factor that not everyone considers.
I mean, if your budget is between $150 and $300, you won't be able to get anything larger than a 1/2 impact wrench, especially if you want high quality.
However, if you're willing to spend more than $350, a 3/4 inch or even a 1 inch impact wrench can be viable options because they're priced in that range.
3. Portability
Technically, you could disregard portability and go for the biggest and most powerful impact wrench.
However, you'll quickly find out that if you don't take the form-factor of your next impact wrench into consideration, then you'll probably end up with a tool that's too big and bulky.
So, if you want to avoid regretting your purchase, then taking a quick look at the measurements of the tool you're looking at will give you and idea of its dimensions so you're not surprised once you get your hands on it.
4. Other Uses
Here's the golden rule: when chosing an air impact wrench, consider not only your current project but all future projects where an impact wrench may be needed.
What do I mean by this?
If you only need an average impact wrench but plan to work on heavy tasks (such as changing truck tires) in the future, a 3/4-inch or even a 1-inch impact wrench will provide solid torque levels.
However, if you only intend to use your impact wrench for hobby projects and then store it in your garage, a 1/2 impact wrench may be the best option for you.
---
Types Of Impact Wrenches For Automotive Work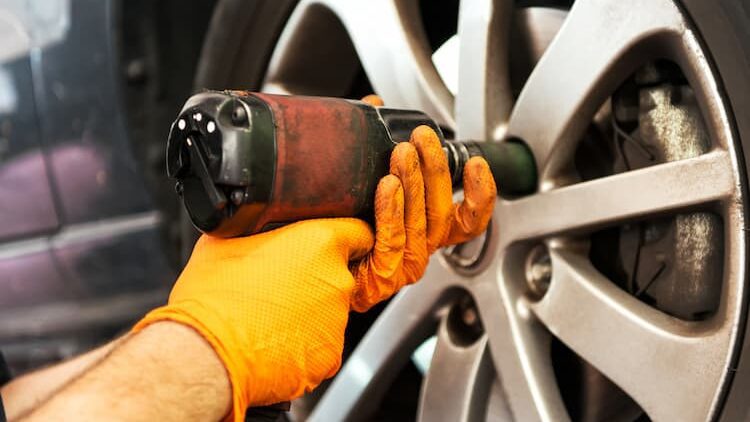 Here are all the types of impact wrenches that might be used for automotive work:
Corded Impact Wrench
If you're looking for a powerful and affordable impact wrench, this one's for you.
Due to the fact that it's hooked directly to the power outlet, a corded impact wrench has more space to store a more powerful motor that delivers excellent torque.
This is especially useful for those looking for a powerful impact wrench that isn't too big or bulky.
Furthermore, because it does not contain an expensive battery, manufacturers can offer corded impact wrenches at a lower price than cordless impact wrenches.
I do have to mention that the cable is a bit inconvenient as it usually stands in the which could set you back in specific cases, but you get used to it easily.
Cordless Impact Wrench
If you value convenience, a cordless impact wrench will be ideal for you.
Cordless impact wrenches have the advantage of not having cables, which is a great feature for those who want convenience.
However, there are a few drawbacks to consider:
Higher price: Because they are made with expensive internal components (e.g., lithium batteries), their prices tend to increase significantly. As a result, cordless impact wrenches are about 20 to 30% more expensive than corded counterparts.
Bulkier designs: Cordless impact wrenches are heavier and bulkier because they must cram a large battery inside their housings, which can be inconvenient for those looking for portable tools
Read More:
Air Impact Wrench
Purchasing an air impact wrench will provide you with a powerful and lightweight tool capable of producing solid torque levels while remaining reasonably priced.
Why?
Because it lacks expensive internal components, manufacturers can charge a lower price without having to make the tools less powerful while still making profit.
You must, however, rely on an external air compressor in order to operate a
You do, however, rely on an external air compressor as it's the only way you'll be able to run a pneumatic impact wrench.
---
Frequently Asked Questions
There are some questions that always come out when discussing impact wrenches and their sizes. This is my attempt at answering them.
What Size Impact Wrench for Lug Nuts?
We all know that changing tires and working on engines is a daily occurrence for most mechanics.
As a result, it's critical to understand the torque levels required to complete these tasks.
In my experience, a 1/2 impact wrench is the best tool for working on most medium-sized car engines and tires because it provides enough torque to remove or tighten lug nuts without damaging them.
Furthermore, a 1/2 impact wrench will be less bulky and expensive than, say, a 3/4 impact wrench, which could potentially strip the lug nut, causing a major headache.
What Size Impact Wrench For Changing Tires?
In general, I'd say a 1/2 impact wrench is best for changing most tires.
It will provide enough torque and speed to easily and safely remove lug nuts without breaking them. That said, this is correct if we're talking about medium-sized vehicles.
Otherwise, to change tires of bigger vehicles like trucks, then I'd say a 3/4 impact wrench is better as it provides more torque to easy remove lug nuts without stripping them of damaging the tool itself.
You will, however, have to spend more and be prepared to hold a heavier tool when changing the tires.
How Much Torque Do I Need in an Impact Wrench?
To begin, there is a common misconception about torque in that more power is not always better, especially when considering the possibility of stripping the lug nuts when applying too much torque.
That being said, I believe that in order to get accurate advice on how much torque your impact wrench requires, you should first research the specific torque levels required for the automotive part you'll be working on.
This will give you the guarantee that you won't make a mistake and that you spent your hard-earned money on a tool that will actually help you.
You'll save both time and money this way.