Are you interested in getting a tool that will help you fasten and remove nuts and bolts, but you don't know if picking an air ratchet or an impact wrench is better?
In this article, I'll compare air ratchets vs. impact wrenches by listing all the differences and giving advice on what tool is better for different applications.
Let's get right into it.
---
Air Ratchet vs Impact Wrench: The Differences
These are the apparent differences existing between air ratchets and impact wrenches.
Hopefully, they will allow you to learn what tool is better for your needs.
Weight & Dimensions
Air ratchets are known for being compact and lightweight, which is perfect if you're planning to work on nuts and bolts in tight spaces. Also, due to their light weight, they're very easy to hold for long, which is perfect if you're the kind of mechanic that works for 8 to 10 hours.
Impact wrenches, on the other hand, are a bit bigger and bulkier than air ratchets.
I mean, don't get me wrong, brands have been investing hundreds of millions of dollars in the last few years to make more lightweight impact wrenches.
However, if you're planning on working in really tight spaces, impact wrenches might not be the best path for you.
Torque
This battle goes to impact wrenches, hands down.
Impact wrenches are manufactured with powerful motors designed to deal with rusty nuts and bolts that are very difficult to remove. This is how you'll find impact wrenches that deliver up to 500 ft/lbs of maximum torque.
The downside of this much torque is that it can easily snap nuts and bolts with the wrong torque setting.
Air ratchets are much less powerful than air impact wrenches. In fact, it will be tough for you to find air ratchets that deliver more than 65 ft/lbs of maximum torque.
This makes them the safest choice to tighten nuts and bolts without stripping their heads off, although it can be a bit slow.
So, I'd say that if you need to remove tight bolts or lug nuts, then an impact wrench is for you. However, if you don't need that much torque to tighten or remove your fasteners, then an air ratchet might be your best bet.
Control
Frankly, I love both air ratchets and impact wrenches.
However, control and accuracy is a fight in which air ratchets gain a significant advantage over impact wrenches.
Due to them delivering less torque and being more compact, air ratchets become much easier to handle, making them perfect for applications that require accuracy.
On the other hand, impact wrenches are more powerful tools that tend to output a lot of torque with a substantial vibration level. This makes them much less accurate than air ratchets.
So, if you work on tight spaces and on applications that require control and accuracy, then air ratchets might be the best tool for you.
Noise Made
Another big advantage for air ratchets regarding their less powerful motors is that they make much less noise than impact wrenches when in operation.
This allows the worker to use the air ratchet without risking suffering any long-term hearing issues.
On the other hand, Impact wrenches have much more powerful motors that tend to make more noise when they are active.
Even though the noise isn't unbearable, I do recommend using ear muffs if you're planning on using an impact wrench.
Power Source
This is an easy one.
Air ratchets are powered by air compressors which can be a bit annoying if you need portability.
However, it does have the advantage of making the tool much cheaper as it doesn't have expensive internal components. Also, air ratchets are less likely to break due to being less complex internally.
You can find cordless ratchets, though, which might be advantageous for you if portability is essential.
Now, regarding impact wrenches, they can come in three versions: corded, cordless, and air-powered.
Cordless impact wrenches are very portable and powerful. Yet, they can be expensive as they contain many costly internal components. You'll also have to recharge them frequently, which can be annoying for some.
Corded impact wrenches get their power from electrical outlets, which means you'll also have your movement restricted. So, if you prioritize portability above all, this might not be the best tool for you.
Lastly, air impact wrenches get their power from an air compressor. This restricts their movement but makes them as powerful as corded impact wrenches. Also, they're cheaper and less likely to break, given that they don't have lots of expensive internal parts.
Usages
Due to their lower torque and small form-factor, air ratches are perfect for tightening and removing small lug nuts, and bolts, especially if you're doing so in reduced spaces.
On the other hand, Impact wrenches have powerful motors that output higher levels of torque, which are perfect for removing rusty or really tight nuts and bolts. They are a bit heavier and bulkier, though.
Size
There are several sizes of impact wrenches and air ratchets.
You can find 1/2, 3/8, and 1/2 air ratchets. In contrast, you can find 1/4, 3/8, 1/2, and 1-inch impact wrenches.
Sockets
There is one distinction we can talk about regarding what kind of sockets air ratchets and impact wrenches accept.
You can use only impact sockets in impact wrenches. These sockets are made to take on a higher level of torque without breaking, making them a bit pricier.
On the other hand, air ratchets can use regular sockets as they do not deliver higher torque levels. This, in turn, allows the user to use standard sockets as they know they won't break under any circumstance.
---
Comparison Table
Here's a quick comparison table I made about the differences between air ratchets and impact wrenches.
| | | |
| --- | --- | --- |
| | Air Ratchet | Impact Wrench |
| Weight & Dimensions | Lightweight and slim (more convenient) | A bit bulkier and heavier than an air ratchet |
| Torque | Around 60 ft/lbs of torque | From 150 ft/lbs to 700 ft/lbs in some cases |
| Control | More accurate | Less accurate |
| Noise Made | Less noise due to its less powerful motor | A bit more noise (about 80 dBA) |
| Power | Air compressor | Air compressor / Batteries |
| Usages | Fasten and remove small nuts and bolts (not for rusty nuts and bolts) | Fasten and remove any kind of nuts and bolts (even rusty ones!) |
| Sockets | Accepts any kinds of sockets | Only accepts impact sockets |
---
Air Ratchet vs Impact Wrench: Which one is the best?
So, what's the best choice between an air ratchet and an impact wrench?
That's what we're about to find out.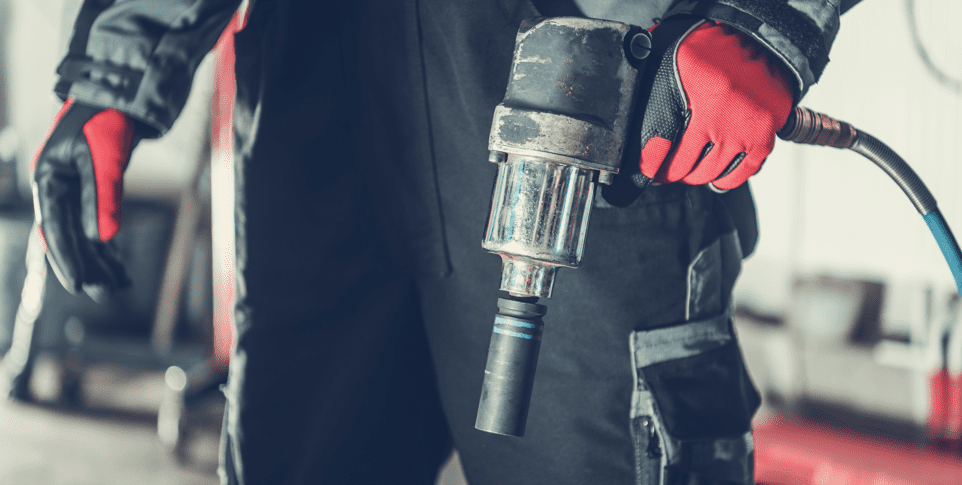 What I appreciate the most about air ratchet is that they are lightweight and small yet powerful enough to run in and out small lug nuts and bolts.
Even though they aren't the perfect tool for removing stubborn nuts and bolts, they are small enough to fit in tight areas, and they are very accurate, which is a big pro for mechanics.
So, I believe air ratchets are best if you're planning to use the tool for:
long hours, as they are lightweight and compact
removing small nuts and bolts that aren't really tight
in small spaces, as they are fairly small
On the other hand, impact wrenches are substantially more potent than air ratchets at the cost of being heavier and bulkier.
In that context, impact wrenches are best if you're planning to use this power tool for:
removing rusty nuts and bolts
short bursts as holding this tool can get a bit annoying due to its form factor and weight
a wide variety of applications, as this tool has variable speed triggers and various torque settings for maximum customization
---
What's The Best Air Ratchet?
Ingersoll Rand 109XPA 3/8" Drive Air Ratchet Wrench
It's easy to spend hundreds and hundreds of dollars on power tools to find the best air ratchet.
However, most people don't have enough disposable income to waste on this pursuit. This is why I thought it would be nice to review what I believe is the best air ratchet in the market.
Let me present you: The Ingersoll Rand 109XPA 3/8 air ratchet.
This tool delivers up to 70 ft/lbs of max torque, which is surprising for a device of this size, making it perfect for heavy applications.
Moreover, it comes with a forward/reverse control that makes it very easy to adapt the motion of the tool on the go.
Lastly, it has an adjustable exhaust that allows users to direct the air anywhere they want to avoid inconveniences.
---
What's The Best Impact Wrench?
DEWALT 20V MAX* XR Cordless Impact Wrench
When you get used to working all day long at the garage, removing rusty and stubborn nuts and bolts, you start to notice that you need a tool that will help you improve your productivity.
I believe an impact wrench such as this DEWALT 20V model is perfect for those cases.
For once, it delivers up to 330 ft/lbs of torque which is very impressive for a tool that only weighs 3.48 pounds.
For convenience, it has a mode that automatically stops the motor from running when it senses the fastener is already tight enough to avoid breaking it.
Its variable speed trigger and 3 torque settings allow the user to adapt the tool to the task at hand, save on battery, and avoid potential headaches.
Last but not least, it comes with LED lights that make the process of working in dimmed lit areas very easy.
See also:
---
Air Ratchet vs Cordless Ratchet
Air Ratchet Pros and Cons
Well, first, we must say that air ratchets are more powerful than their cordless counterparts. This takes place because the power source, the air compressor, is external, which means it doesn't have to fit inside the tool, limiting its power.
Another significant advantage of having the power source outside the tool is that the air ratchet has fewer internal components, making it cheaper and more compact.
However, things aren't as good as they sound. A big con of air ratchets is that they have to be constantly hooked to the air compressor, limiting movement, which can be a deal-breaker for some workers.
Cordless Ratchet Pros and Cons
Cordless ratchets have the considerable advantage of being hose and cable-free. This allows the user to move around freely and fit in tight areas where you can't go with an air compressor.
Oh, and they make almost no noise compared to their pneumatic counterparts.
But, and there's always a but, they do have their fair share of cons. For instance, they:
Are pretty expensive
Can be a bit bulky because manufacturers have to fit a whole battery inside the tool
Break faster than air ratchets given their many internal parts
Aren't as powerful as air ratchets
Conclusion
My conclusion about the comparison of air ratchets vs cordless ratchets is that it depends on your needs.
If you're the kind of worker that doesn't want to spend a lot of money but still get a powerful ratchet in return with solid torque, then an air ratchet is for you. Especially if you have an air compressor around your garage.
Now, if you prioritize portability above all and you still want a powerful ratchet, you may want to get a cordless ratchet. Be prepared to spend a few extra bucks, though!
---
Air Impact Wrenches vs Cordless Impact Wrenches
The same we said about ratchets can be said about the comparison of air impact wrenches vs cordless impact wrenches, so I'll be short.
Air impact wrenches have the following advantages:
More torque than cordless counterparts
Slim and lightweight, because they don't have many internal components
Cheaper
However, they can be a bit annoying as you'll always have to be hooked to an air compressor to power them. This can get even more irritating if you have to reach places where the air compressor doesn't fit or where the hose's length doesn't let you.
Now, regarding cordless impact wrenches, I must say they are my personal favorite due to the following features:
Solid power
No cables or hoses
Maximum portability (no hoses or cables)
However, you must be aware that you must have an additional battery pack. Otherwise, you can run out of battery in the middle of the workday, which can be a huge pain. Oh, and they are a bit pricier!