There's a lot of people interested in how to safely run a generator in a garage or in any enclosed space for that matter.
I'm not gonna lie, it's a bit tricky and certainly risky. But, if you do have to do it, there's a specific process to be followed to reduce danger.
---
Dangers of Running a Generator Indoors
Running a generator in an enclosed space (i.e. a garage) is a big no-no for most security experts.
This might feel like an exaggeration for some. However, it's not. I mean, when you run a generator in a garage you're exposing yourself to the following hazards:
Carbon Monoxide Poisoning
When the generator is operating it exhausts carbon monoxide. CO (carbon monoxide) is a colorless and odorless gas and can poison human beings without them even realizing it. In fact, if humans have 50% carbon monoxide in their blood for enough hours it's enough for them to die.
Lack of Ventilation
Any enclosed space lacks ventilation. Due to this, the carbon monoxide exhausted by the running generator has nowhere to go but to stay inside.
As time passes, the carbon monoxide builds up indoors which is very dangerous as this gas is both colorless and odorless, making it dangerously easy to miss for regular people.
Toxic and Flammable Fumes
When running a generator indoors, you don't only have to worry about the "silent killer" (meaning the carbon monoxide) but also about the toxic fumes exhausted by the generator (that normally run on gasoline).
Even though these fumes can be easily smelt, it doesn't make them less hazardous than carbon monoxide. In fact, they can be as dangerous as CO is due to their flammable attributes.
It's not been unheard of complete houses exploding due to flammable gasses filling up entire rooms in a residence. Many garages are attached to houses, so if that were to happen in an attached garage very bad things would happen.
---
How to Safely Run a Generator in a Garage
Disclaimer: As explained before there're a lot of risks involved with running a generator in a garage. So my best recommendation would be to consult with a safety expert to make sure you're not putting your or your family's health at risk
Even though it's not recommended to run a generator in a garage due to the dangers previously discussed, there is a process one can follow to reduce the risks involved.
Let me share with you how I'd go about that.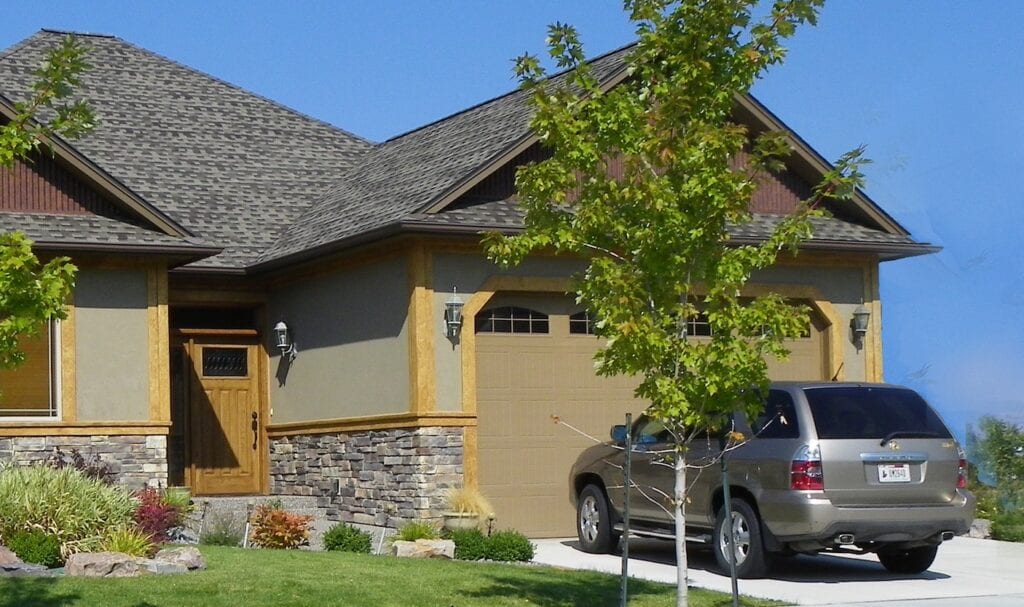 Install a CO Detector in Every Room (including the garage)
Installing a CO detector in the garage and in every room of your house is a perfect idea.
These little gadgets have loud alarms that go off whenever a high concentration is found in the air. So, if you want to run a generator in your garage, even if it's fully ventilated, it's best to have one of these little detectors installed all around your house to make sure you and you're family are ok.
We like smart CO detectors that send you notifications straight to your phone, such as this one:
Google Nest Protect Alarm-Smoke Carbon Monoxide Detector
But, if you go for cheaper versions, like these ones, that's ok too.
You know what they say, you can't be too careful! I mean, I'd even install CO detectors all around the construction site if you're running a generator for construction work.
Maximize the Ventilation of the Garage
The key to safely running a generator in a garage is making sure the carbon monoxide exhausted is sent outdoors to prevent from poisoning the garage's air.
To achieve this you must open all the windows in your garage, including your garage door, to make sure you're maximizing the airflow.
Then, place the generator as close as you can to your garage door to make sure it's in the most ventilated area so the carbon monoxide is sent outside.
Using a high-velocity fan to blow the gas outside the garage might be another great idea. I'm gonna leave you with the fan I personally use for this, it's a bit pricey but definitely a game-changer:
Air King 9230 Industrial Grade High Velocity Fan
Don't Come Close When It's Running
When running a generator indoors (i.e. in an open garage) you have to make sure you're nowhere near it.
As said before, carbon monoxide is colorless and odorless. Even if you're running it in a fully ventilated garage, there's still a big chance that there's gonna be some level of CO concentration in the surrounding area which, of course, you won't notice.
So, my best advice would be to turn the generator on when it's running and go away ASAP to make you minimize the carbon monoxide you breathe in.
Don't Start the Generator Before Plugging Cables into it
To prevent getting electrocuted it's better to first plug everything you need to be plugged into the generator and then when everything is plugged, you can start the generator.
Otherwise, you're risking getting electrocuted by any short-circuits that could unexpectedly happen. Better be safe than sorry, right?
Don't Store Gasoline in the Garage
Gasoline exceeds very flammable fumes. If stored in a closed space (i.e. garage) these fumes can fill out the entire space very easily.
If that happens and you started the generator at the same place time there's a big chance the whole place is gonna explode because:
carbon monoxide is flammable
any spark from the generator can send the whole place up in orbit
So, the best idea would be to store gasoline in a completely different space to make sure the gasoline fumes aren't the reason your garage is going to completely explode.
Don't Overload the Generator
Sadly, overloading the generator is a pretty common thing.
People don't like reading manuals and they hook up appliances to the generator with no limit. This, of course, ends up overloading the generator.
Overloading a generator has very bad consequences, especially taking into consideration that you're running it in a garage. I mean, the generator can get so overloaded that it could blow up or catch into fire which is THE LAST THING you want in your garage.
So, my advice would be to read the manual and make sure the wattage on your generator can take the gadgets you want to hook to it.
Use Proper Cords
Power cords seem fairly non-threatening at first sight. However, there're serious risks related to generator extension cords, such as:
tripping hazards
short-circuits
To avoid such issues, one must check with the manufacturer (i.e. the user's manual) regarding what extension cords to use with any certain generator.
If your user's manual doesn't say anything about what extension cords to use, I'd say you get one of the heavy-duty power cords I use, which never failed me:
Amazon Basics 12/3 SJTW Heavy-Duty Lighted Extension Cord
Never Refill When The Generator is Running
Gasoline is highly flammable. We all know that.
Due to this, it's extremely unrecommended to fill up the generator's tank when it's running because if things went wrong everything could blow up.
This is why the best thing to do is to turn off the generator and fill up the tank when it's off. Then, once the tank is filled, you can start the generator back up safely.
Install an Exhaust Venting System (Optional)
If you're gonna safely run a generator in a garage then you must make sure the carbon monoxide exhausted is released into the open.
This is very hard to do when you're running the generator inside a garage. Regardless of how well-ventilated the garage is, there's no way you're gonna get rid of all the carbon monoxide (a.k.a. the "silent killer").
If your generator has an exhaust manifold, I'd say installing an exhaust system would be the best way to increase the chances of avoiding getting high levels of carbon monoxide in the garage's air.
If you asked me, I'd say the best exhaust system to use is the following:
Camco Gen-Turi RV Generator Exhaust Venting System
It might be a bit expensive but it's very efficient to improve the air quality of your garage when a generator is running.
Use Solar-Powered Generators (Optional)
The perfect solution for safely running a generator in a garage is getting one that actually doesn't exhaust carbon monoxide. In other words, what you need is a heavy-duty solar-powered generator.
If you asked me, the best solar-powered generator to safely run at a garage is the following one:
BALDR Portable Power Station
It has 300 watts of capacity and is solar-powered, which is exactly what you want to have in your garage if you want to avoid breathing carbon monoxide.
Avoid Attached Garages (Optional)
This is a big one.
To be honest, I'd never run a generator in a garage that's attached to my house. Never, ever.
There're too many risks associated. You could poison the air in the rest of the house even if you think the garage is properly ventilated.
What I'd do is run the generator in a garage that's outdoors (de-attached from the rest of the house) or I'd run build a separate room outside or right next to my garage with thick concrete walls and with really good ventilation. That way I can be sure that I wouldn't be putting the health of my family at risk.
Place Generator Outside with a Shield Cover (Optional)
Protection is the number one priority at my house. That's why I'd say safely running a generator in a garage is fairly difficult, next to impossible even.
However, you can use a shield cover to let your generator running in the outdoors without it being exposed to the elements.
Hell, you can place it right next to your garage with the cover and let it running without feeling afraid of rain ruining your expensive generator.
There're a lot of shield covers for generators out there. However, there's one brand we always go for and that's Kinying. These guys offer some really heavy-duty shield for generators, such as:
Kinying Outdoor Generator Shed/Cover
This shield is very easy to assemble in the outdoors and protects generators from rain, snow, wind, you name it.